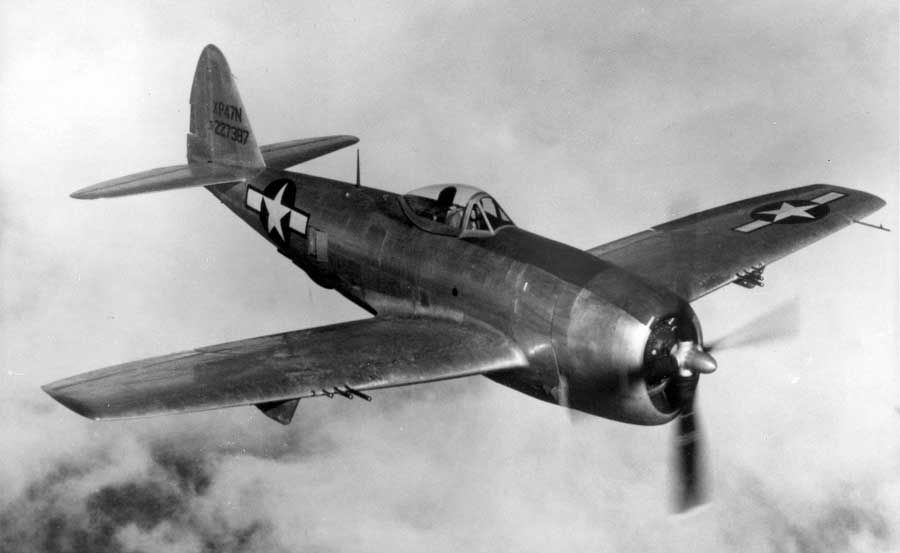 April 8, 1943 - Republic P-47 "Thunderbolts" were first flown in combat over Western Europe.
>>> Be sure to check out our P-47N Thunderbolt in our WWII Gallery!
The Republic P-47 Thunderbolt
The P-47 was a World War II-era fighter aircraft produced by the United States from 1941 through 1945. Its primary armament was eight .50-caliber machine guns and in the fighter-bomber ground-attack role, it could carry five-inch rockets or a bomb load of 2,500 pounds. When fully loaded the P-47 weighed up to eight tons making it one of the heaviest fighters of the war. The P-47 was designed around the powerful Pratt & Whitney R-2800 Double Wasp engine which was also used by two U.S. Navy/U.S. Marine Corps fighters, the Grumman F6F Hellcat and the Vought F4U Corsair. The Thunderbolt was effective as a short-to-medium range escort fighter in high-altitude air-to-air combat and ground attack in both the World War II European and Pacific theaters.
Read more about the development of the P-47 in our popular article: Aviation Darwinism - The Republic P-47 Thunderbolt
Republic Aviation
The Republic Aviation Corporation was an American aircraft manufacturer based in Farmingdale, Long Island, New York. Originally known as the Seversky Aircraft Company, the company was responsible for the design and production of many important military aircraft, including its most famous products: World War II's P-47 Thunderbolt fighter, the F-84 Thunderjet and F-105 Thunderchief jet fighters, as well as the A-10 Thunderbolt II close-support aircraft.
Great Read:
When Republic Aviation Folded
A historian rescued a lone document from the company's files.
Article from the Smithsonian's AirSpaceMag.com from 2013 by Cradle of Aviation Museum Curator, Josh Stoff.