Cradle of Aviation STEM & Space Camps
Long Island's most unique and interesting camps, focusing on STEM (science, technology, engineering and mathematics)!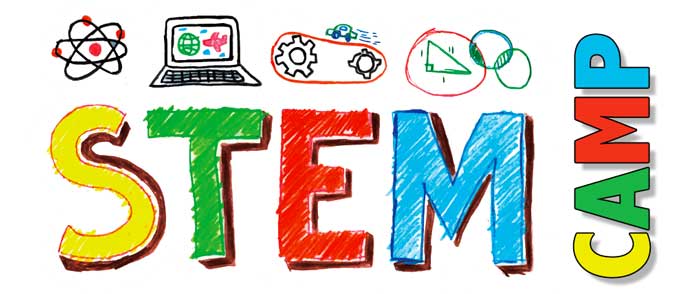 ---
Summer Camp 2020
In these five-day mini-camps, led by experienced museum educators, campers will explore, interact, experiment and create. Sign up for one or more weeks of fun this summer at Long Island's most unique and interesting camp!
Camp runs from 9:30-3:00 pm. Campers should bring a bag lunch. For ages 9-12. Members: $350/week; Non-Members: $400/week.
Early Bird Discount >
Sign up before March 31st and receive $20 off your base price!
Call Reservations at 516-572-4066 (Monday-Friday, 10-4) to save your spot!
Light in Motion

July 27 – July 31
There is so much more to light than meets the eye: from lasers to light bulbs, from radio waves to gamma rays, it's all light! In this week-long intensive, campers will explore the visible and invisible spectrums of light that fill our universe. They'll manipulate the light in a series of hands-on experiments and activities that are guaranteed to spark their curiosity and help nurture a love of science.

STEAM Camp

August 10 - 14
Art and science combine in this week-long exploration of STEM and Art. Calling all singers, scientists, artists, engineers, dancers and mathematicians and especially YOU! Campers will explore how different forms of art can be infused into various STEM disciplines and discover the hidden science behind music, art, and performance. No performing experience is needed to participate.
---
What is STEM?
STEM is a curriculum based on the idea of educating students in four specific disciplines — science, technology, engineering and mathematics — in an interdisciplinary and applied approach. Rather than teach the four disciplines as separate and discrete subjects, STEM integrates them into a cohesive learning paradigm based on real-world applications.
---
Privacy Policy
We do not sell or otherwise disclose information about our customers, volunteers or supporters outside of our immediate organization. This policy has no exceptions. We do not sell or exchange your information with any other organization, public, private, or nonprofit. View our full Privacy Policy here.