Long Island's most unique and interesting camp, focusing on STEM (science, technology, engineering and mathematics)!
Cradle of Aviation STEM & Space Summer Camp 2018
In these five-day mini-camps, led by experienced museum educators, campers will explore, interact, experiment and create. Sign up for one or more weeks of fun this summer at Long Island's most unique and interesting camp!
Camp runs from 9:30-3:00 pm. Campers should bring a bag lunch. For ages 9-12. Members: $350/week; Non-Members: $400/week.
Early Bird Discount >
Sign up before March 31st and receive $20 off your base price!
Early Drop-off, Late Pick-up >
For an additional $50 on your base price, sign your camper up for an extended day. Normal Day: 9:30 am-3:00 pm - Extended Day: 8:30 am-4:00 pm
Call Reservations at 516-572-4066 (Monday-Friday, 10-4) to save your spot!
Suited for Space

July 9-13
In this first week of Space Camp, young aspiring space travelers will be introduced to the many ways NASA prepares its astronauts and engineers for space exploration. Hands-on activities include, solid rocket making, protecting an egg astronaut from the dangers of re-entry, and much more!

Intergalactic Voyagers

July 23-27
After training to become an astronaut, returning campers along with new space cadets will blast off to discover the wonders of deep space! Hands-on activities include, hunting for Kepler Planet aliens, experimenting with the speed of light, and much more!
---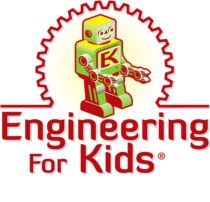 Engineering for Kids is back this summer with 4 weeks chock full of programming goodness!
Sign-up for one or more weeks of fun! Cost is $550 for the full day camp; 9AM – 4PM
Register on their website here!
Week 1 - June 25th –June 29th
Game On! Code your own ROBLOX Games - 9am – 12pm
Dive into the endless world of Roblox and create your own games! Roblox is one of the fastest-growing game creation platforms on the planet, with more than 60 million players per month and top developers making over $1 million a year. Learn how to use Roblox Studio to create your own 3D worlds and then use LUA to code game mechanics. Publish, share, and play games with friends on any platform from console to mobile.
Momentum Madness: Extreme Machines - 1pm-4pm
Zero to sixty in two seconds?! How fast can an object go without compromising safety? In this hands on engineering camp students will work with their Pit Crew to design and build machines, such as dragsters and rollercoasters, which should able to withstand astonishing speeds. Fasten your seat belt, the race has begun!
Week 2 - July 30th to August 3rd
3D Printing: Superheroes to the Rescue - 9am – 12pm
3D printers are one of the most widely applicable and fun inventions on the tech scene today! In 3D Printing: Superheroes To The Rescue, we will explore the basic concepts of 3D printing and computer-aided design, or CAD, to design and create our very own 3D printed superhero! Students will take their hand drawn design and learn how to extrude it into a 3D model that can then be modified to be printed in 3D.
Electronic Game Design: Marvel Masters Invasion! - July 30th to August 3rd, 1pm-4pm
Video games are everywhere and in almost every form you can imagine! Students will create our own version of a marvel like superhero game to defeat an unprecedented threat to Earth! We will use the Engineering Design Process to create a storyboard to outline the rules of play and characters for our game. Then, we will use Clickteam Fusion 2.5® to bring our storyboard to life with programming. At the end of the class, everyone takes home a working Windows-compatible game (Clickteam Fusion 2.5® does not support Mac or Android operating systems).
Week 3 - August 20th to August 24th
App Builder: Build an App in a Zap! - , 9am – 12pm
In an instructor led setting using the bitsbox learning system, students will be introduced to and use computer science concepts to create various crazy and fun app coding projects.
Minecraft :Traveling Into the Future - August 20th to August 24th, 1pm - 4pm
Join us in an apocalyptic future, one where the earth has been ravaged by a series of natural disasters. Each day, students rely on the engineering design process to solve a series of challenges such as building a city on a series of islands, escaping from a bunker on Mt. Everest, and even building a rocket to land on the moon! Through application of engineering principles, students solve numerous challenges as they make their virtual world of Minecraft a safe place for humanity once again.
Week 4 - August 27th to August 31st
Roblox Entrepreneur! - 9am – 12pm
Roblox offers students the opportunity to actively engage in the creative process and learn fundamental coding, design, and entrepreneurial skills that will give them the confidence to excel in school and beyond. Using Roblox studio, creation tools and educational content can be used to teach skills as stand alone subjects or integrated across multidisciplinary programs.
Design the Future - 1pm - 4pm
What does the future look like? Join us as we embark on an odyssey to explore the future of transportation, manufacturing and structural. Let's take a look at the innovations of today and apply them to create the designs of tomorrow as we explore ways to harness clean energy and house a growing human population. Become an engineer and help Design the Future!
---
What is STEM?
STEM is a curriculum based on the idea of educating students in four specific disciplines — science, technology, engineering and mathematics — in an interdisciplinary and applied approach. Rather than teach the four disciplines as separate and discrete subjects, STEM integrates them into a cohesive learning paradigm based on real-world applications.
---
Privacy Policy
We do not sell or otherwise disclose information about our customers, volunteers or supporters outside of our immediate organization. This policy has no exceptions. We do not sell or exchange your information with any other organization, public, private, or nonprofit. View our full Privacy Policy here.