Cradle of Aviation STEM & Space Camps
Long Island's most unique and interesting camps, focusing on STEM (science, technology, engineering and mathematics)!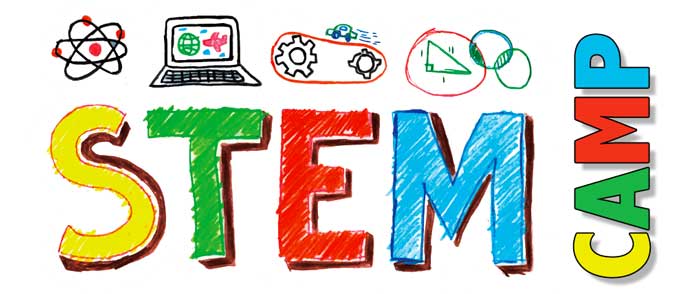 ---
Virtual Summer Camp 2020
July 27-31, recommended for ages 9-12
Lighten Up!
The Cradle of Aviation is happy to offer a virtual day camp from July 27 – 31. Campers will explore the properties of light and the fun ways to play with and manipulate it. This camp will have two virtual sessions per day: a morning group activity and an afternoon check-in both sessions are included in the price as are all supplies and materials. Just because the program is virtual doesn't mean that the campers will be stuck in front of the computer the whole time. These activities are meant to be played with and used beyond each camp session. Morning sessions are from 9:30 am – 10:30 am with an additional 30 optional minutes for project support. Afternoon sessions are from 12:00 pm – 12:45 pm with an additional 15 optional minutes available for project support.
This five-day camp is $200 per camper.
All materials are included and may be picked up from the museum or shipped to you (shipping charges apply!)
Please call Reservations at 516-572-4066 to save your spot.
Itinerary and planned activities:
Monday
Morning session: Tour of the Museum and Ice breakers
Afternoon session: Laser and lens demonstration
Laser and Lens Demonstrations: A laser is a concentrated beam of light. Since it makes a visible, narrow beam, it is perfect for demonstrating how lenses work. In this demonstration, we will put laser beams through different shapes lasers and see who they affect the path of light, then campers will try to predict how laser light will react when passed through a series of lenses.
Tuesday
Morning Session: Pinhole Cameras
Pinhole Camera: Cameras Have been around for almost 200 years and the basic principle of them remains the same. Light enters an opening and is then recorded (either digitally or on a photographic paper or plate). Using simple materials, we will recreate a camera obscura that will project whatever brightly lit object is in front of the viewer. We will then manipulate the pinhole opening and add a lens to sharpen our "picture."
Afternoon session: Prism painting with watercolors/Refraction Glasses
Mixing Colors/Prism Painting/refraction glasses: Prisms and refraction glasses break up sunlight into its various wavelengths or colors. Campers will create and observe their own rainbows outside and then paint over them using the included watercolor paints.
Wednesday
Morning Session: Optical Illusions
Optical Illusions: We will explore the world of optical illusions together and how the eye can trick the mind into seeing something that may not be quite as it seems. Campers will then make their own optical illusions with the enclosed materials.
Afternoon Session: Seeing the negative/Blindspots
Seeing the Negative/Blindspots: We will explore the peculiarities and limitations of the human eye in this activity. Pictures and words will change color and symbols and objects will disappear before the campers' very eyes.
Thursday
Morning Session: Anaglyphs/3D Glasses
Anaglyphs/3D glasses: By restricting the wavelengths seen by individual eyes, two-dimensional photos and pictures can leap off the page. Anaglyphs have been around for 150 years but hit their heyday in the 1950s when 3D movies became popular. Campers will use included materials to create their own 3D glasses and learn how this particular illusion works.
Afternoon Session: Mixing Colors/Color Wheel
Mixing Colors/Color Wheel: In this activity, campers will learn that mixing light and mixing pigments are two very different things. They will inspect their electronics around the house to discover how primary colors of light are mixed to create new colors.
Friday
Morning Session: Fiber Optics
Fiber Optics: Using included fiber optic cables, campers will create their own decorative peacock and send various colors of light to its tail.
Afternoon Session: Kaleidoscopes
Kaleidoscope: In this simple and fun final activity, campers will create their own kaleidoscope and discover how reflected light can create beautiful images.
---
What is STEM?
STEM is a curriculum based on the idea of educating students in four specific disciplines — science, technology, engineering and mathematics — in an interdisciplinary and applied approach. Rather than teach the four disciplines as separate and discrete subjects, STEM integrates them into a cohesive learning paradigm based on real-world applications.
---
Privacy Policy
We do not sell or otherwise disclose information about our customers, volunteers or supporters outside of our immediate organization. This policy has no exceptions. We do not sell or exchange your information with any other organization, public, private, or nonprofit. View our full Privacy Policy here.