Thursday, October 27, 2022
---
The 50th Anniversary of the final Apollo missions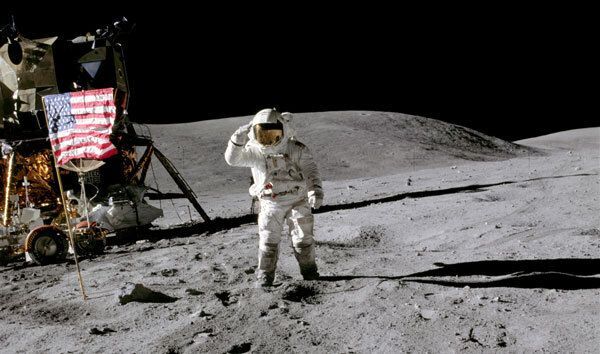 This year we are commemorating the 50th Anniversary of the final Apollo missions with guests Charlie Duke, Apollo 16, Gerry Griffin, Flight Director, Apollo 13, Bill Shepherd, Shuttle Astronaut & ISS Commander, Holly Ridings, Deputy Program Manager, Gateway NASA JSC.
The Apollo Program is one of humanity's greatest achievements. But what few in the American public understood at the time was just how fragile the spacecraft were and just how dangerous the Moon missions were. Apollo operated right at the ragged edge of 1960s technology, and its amazing string of successes were a testament to the skill and dedication of the Apollo workers around the country and especially here on Long Island. The fact that we have never returned humans to the Moon in fifty years is a clear indication of the complexity and risk associated with Apollo.
Despite the dazzling heights we had achieved, by 1972 it was all over too soon. No one could have imagined it would come to such an abrupt end just as the incredible program was still building up. Apollo 17, the 20th century's last manned voyage to the Moon, brought down the curtain on mankind's greatest adventure. It was a bittersweet finish for the people who had worked so hard and for so long just to get us there. The Apollo era was now over, the dream of centuries was now just a memory.
However, at long last America is now ready to enter the next era of space exploration. Building on what we learned through Apollo, the Space Shuttle and the Space Station - the Artemis Program will finally return humanity to the Moon, but this time we will build the first inhabited settlement on the surface of another world. What an incredible time to be alive!
---
Aviation Leadership Award - David Neeleman
David Neeleman
Founder, CEO & Chairman of the Board, Breeze Airways;
Founder of JetBlue and Azul
David Neeleman is that rarest of entrepreneurs, a man who has created and launched a multitude of successful, independent airlines, including the USA's Breeze Airways, JetBlue and Morris Air (sold to Southwest), Canada's WestJet and Brazil's Azul.
David was born in Brazil while his father was Reuter's São Paulo Bureau Chief. His family moved to Utah while he was still a child. His career began in 1984 when he co-founded a low-fare carrier called Morris Air with June Morris, the owner of Salt Lake City-based travel agency Morris Travel. As President of Morris Air, David implemented the industry's first electronic ticketing system and pioneered a home reservation system where calls are handled by reservationists working from their homes.
Following the sale of Morris Air and a short period with Southwest Airlines, David took the electronic ticketing system that he had initiated at Morris Air and developed it to become Open Skies, the world's simplest airline reservation system. David sold Open Skies to Hewlett Packard in 1999. Also during this period, David acted as a consultant to WestJet Airlines, the successful Canadian low-fare start-up airline.
David then founded JetBlue Airways in New York and spent a decade as Chief Executive Officer (1998 to 2007) and Chairman (2002 to 2008). An amazing success by any measure, JetBlue was an instant hit with travelers and was the first airline to earn $100 million annually within five years, thus becoming a "major" airline fastest. JetBlue has won countless awards and accolades including Top Low-Cost Airline for Customer Satisfaction by J.D. Power and Associates and Best Airline by Consumer Reports. It won Conde Nast Traveler's Readers Choice Awards for Best U.S. Airline for seven consecutive years.
After JetBlue, it was Brazil's turn to experience David's magic in bringing new planes and low fares to many markets that had never seen nonstop service.
Azul, launched in 2008, now serves more than 100 destinations with an operating fleet of more than 140 aircraft, including Brazilian-built Embraer E-190 and E-195 jets, and ATR-72s. Just as JetBlue in the US before it, Azul is the first airline in Latin America to offer LiveTV inflight TV programming via satellite.
David now turns his attention back to the US domestic airline industry with his new airline Breeze Airways. Breeze began commercial service on May 27 and now operates 39 routes in 16 cities from San Antonio, TX, to Providence, RI. David plans to re-invent low-cost travel with nonstop service between secondary and tertiary markets across the USA.
Breeze currently operates 13 Embraer aircraft and has orders for 60 new Airbus A220 aircraft which start delivery in October and will be delivered one per month for the next five years.