Cub Scout Programs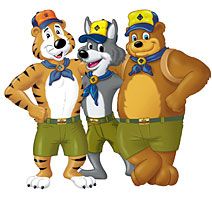 Two troop leaders are required and admitted free and there is a minimum of 10 scouts and a maximum of 25 per program. Programs are 1.5 hrs. All programs are led by screened and certified counselors. Scout Awards are not supplied by the Museum. Due to space and program content, siblings are not able to be included in sessions. 
Want to learn more about the Cub Scout programs? Please use the form below. To make a reservation, please call (516) 572-4066 (M-F, 10-4).
Tiger 
SKY IS THE LIMIT
Explore the Long Island night sky, learn about constellation legends, and draw and name your own constellation. Learn about the two astronauts who were scouts and went to the moon. $21.00 per Scout 
Bear   
SUPER SCIENCE 
Snap! Fizzle! Goosh! Sploosh! Ooze! Grow! Wow! Do you want to know why we are so excited? It is because science is super! It is super snappy and filled with static electricity! Learn about why objects sink or float, what causes static, why some liquids stack up, and much more. $17.00 per Scout 
Webelos  
ENGINEER
What do skyscrapers, bridges, cars, airplanes, and spaceships have in common? They were all engineered! During the program, Scouts will be introduced to the different engineering professions and then become engineers! They will discover the importance of the engineering design process, from idea to blueprint, engineer a system capable of a Moon landing, and assemble their own wood model! $21.00 per Scout.