The Pan Am Museum Foundation Exhibit
Daily, 9:30-5:00 pm, free with museum admission, 3rd floor, atrium.
An Aviation Pioneer Returns to Long Island!
Pioneering Pan American World Airways folded its proud wings in 1991, but the legend will live on, thanks to a dedicated group of former employees who, in just one year, formed the Pan Am Museum Foundation. Their efforts raised over $150,000 to launch the first of four exhibits about the legendary airline.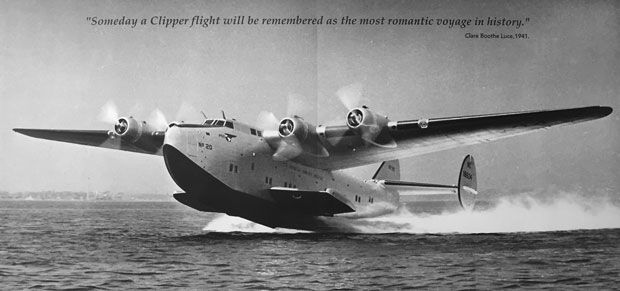 The Boeing 314: An Extraordinary Story
Showcasing the legendary B-314 Flying Boats, these fabled seaplanes pioneered trans-oceanic flying. The Clippers, as all Pan Am aircraft were called, took off from the Pan Am Hangar located on Manhasset Bay in Port Washington, Long Island, first to Bermuda and later to England, Portugal and France via the Azores.
Only 12 of these extraordinary flying boats were built and nine were operated by Pan American.  With a payload of 21 tons, including 74 passengers and a maximum range of 5,200 statute miles, the Boeing 314 was a versatile and profitable aircraft.  With America's entrance into World War II, the Boeing 314 fleet was turned over to military service as it was the only long distance aircraft available for moving large quantities of men and material.  
In the coming years, the Boeing 314 exhibit will be joined by three additional and historically significant Boeing aircraft, the Stratocruiser, the B-707 and the B-747.    
"We're  thrilled to welcome the new Pan Am exhibit to the Cradle. As a pioneer in commercial aviation, Pan Am introduced a variety of aviation innovations that we can use to support our STEM education programs. We're happy to welcome the thousands of Pan Am loyalists who have worked hard to keep the Pan Am legacy alive." Said Andrew Parton, Executive Director of the Cradle of Aviation Museum.
This singular new project was spearheaded by a group of dedicated Pan Am employees, working tirelessly to create and finance the exhibit. In just a year, the founders of this unprecedented project raised funds to put together the first phase and to find an ideal place for it at the Cradle of Aviation Museum.
"We are thrilled by the response we received from Pan Am employees and friends who want to honor our company and its many contributions, not just to aviation, but to global travel and commerce," says Linda Freire, Co-Chair of the Board of the Pan Am Museum Foundation. Ms. Freire, is a former flight attendant and manager who now resides in Cold Spring Harbor. She also notes that eighty people have contributed $1000 or more to become Founding Members of the Pan Am Museum. 

About the Pan Am Museum Foundation
The Pan Am Museum Foundation is a 501(c)(3) charity, registered in the State of New York. The sole mission of the Pan Am Museum Foundation is to develop a Pan Am Museum, furthering the legacy of Pan American World Airways and its importance in aviation history. The Foundation seeks to reunite all former employees and affiliates of Pan American World Airways and those interested in aviation, as well as to serve future generations by promoting an appreciation of all aspects of the aviation industry. Students, teachers, researchers and the community-at-large will find enrichment through the Museum's educational programs. The Pan Am Museum will preserve and exhibit Pan Am artifacts commemorating the company's history, contributions to aviation, and the extraordinary people of Pan Am.
For more information, please visit their website here: http://thepanammuseum.org/
The Pan Am Museum Foundation has office hours at the Cradle on Tuesdays and Wednesdays from 10:00 am to 3:00 pm by appointment only. Please call (888) 826-5678 or use the contact form below.