Museum Outreach
Make learning come alive for children and adults in a variety of settings from schools, libraries, camps, and scout meetings to community centers. Led by museum educators, all programs use hands-on demos to promote the museum's philosophy of inspiring and educating while entertaining.
In addition to our portable Planetarium, we can also bring the following museum classes to you:
Kites
Mission to mARs
Mars by Remote
Physics at Play
Living in Space
Find a Flight
Code A Drone
How Does It Fly
Class descriptions can be found here, and Outreach pricing can be found below.
Outreach programs for schools are age-appropriate and designed to address NYS Learning Standards. To find out more, call 516-572-4066 or use the contact form below.
---
Digitalis Digitarium - Portable Inflatable Planetarium!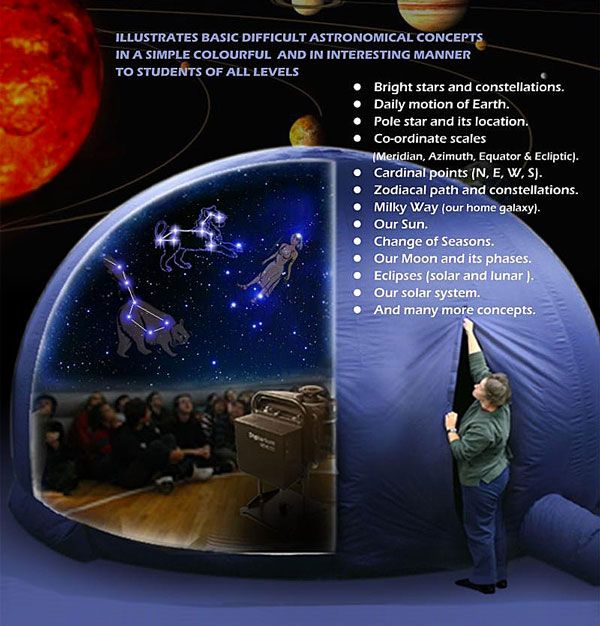 Digitalis is a portable, inflatable planetarium dome that can accommodate up to 30 people per class session. Once inside the dome, discover the majesty of the stars and our universe with its digital technology designed to showcase bright, clear images. The Digitalis dome has a stand-up entrance permitting easy entry for students and teachers, offers interactive learning opportunities, and is best suited for your gym or auditorium.
---
Nassau County Outreach Pricing
Base 45-Minute Museum Class Program - $400
Base 45-minute Digitalis Planetarium Program - $550
Additional 45-Minute Same-Day Programs - $60
Please call for outreach pricing in Suffolk, Queens, and Brooklyn counties.
---
Contact