Elinor Smith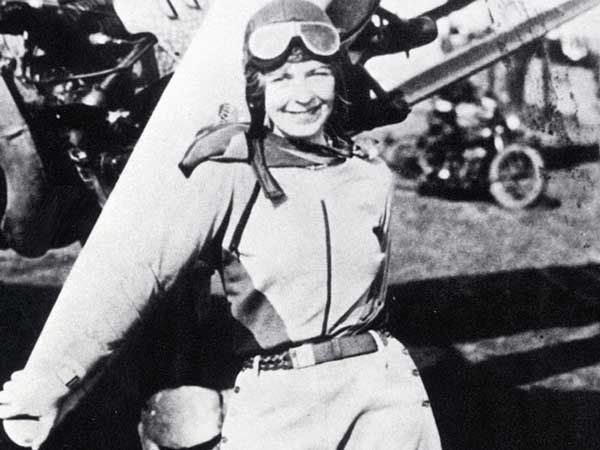 In 1927, Elinor became the youngest licensed pilot in the world. She was only 16. During her flying career, she set multiple solo endurance, speed, and altitude records, and was named by fellow fliers the 1930 female pilot of the year. Amelia Earhart was in the news, but pilots considered Elinor a better flier. Celebrated as "the flying flapper," Elinor was the first woman featured on a Wheaties cereal box.
Elinor retired from flying at age 29 to focus on her family but resumed flying after her husband died in 1956. In 2000, at age 88, she became the oldest pilot to complete a simulated shuttle landing.
"…becoming a professional pilot was for me the most desirable goal in the world, and I was not going to allow age or sex to bar me from it."  – Elinor Smith
Elinor Smith Facts:
Born August 17, 1911, in New York City.
In 1917, at the age of six, Smith took her first flight in a Farman pusher biplane and from then on she was hooked on aviation.
Growing up in Freeport, Long Island during the heyday of the golden age of flight, Elinor Smith had access to some of the best flying fields in the country and some of the most famous flyers.
At the age of fifteen, Smith flew her first solo flight and one year later in 1928, she received her pilot's license to become the world's youngest licensed pilot.
One of her earliest and most famous stunts in 1928 was flying under all four East River suspension bridges—a feat never accomplished by another pilot.
In 1928, Smith set a light plane altitude record of 11,889 feet, the first of many records she was to set during her career. In 1929, alone she set four world records.
The following year Smith set the women's solo endurance record after spending thirteen hours, sixteen minutes flying an open cockpit Brunner Winkle Bird on a frigid January night over Roosevelt Field.
Smith toured the U.S. air show circuit in 1929, piloting a Bellanca Pacemaker for a group of parachutists promoting the Irvin Parachute Company.
Flying with co-pilot Bobbie Trout, she set the first Women's Refueling Record of 42 hours over Los Angeles.
Smith was the first woman test pilot for both Fairchild Aviation Corporation and Bellanca Corporation.
Set Woman's World Speed Record of 190.8 miles per hour in 1929 in a Curtiss Falcon over a closed course, Motor Parkway, Long Island.
In 1930, Elinor Smith received one of the greatest honors in her life when she was voted the best woman pilot in the United States.
From 1930 to 1935, Smith worked as a radio commentator on aviation events for NBC.
After retiring from flying, Elinor Smith worked to preserve the history of Long Island aviation.
She was a founding member of the Long Island Early Fliers and promoted the creation of an aviation museum on Long Island.
In 1960, she piloted a T-33 jet trainer at Mitchel
Elinor Smith Quotes:
Children must be allowed to dream and have a horizon to work toward. For me there was only one path: I knew from age six that I wanted to fly. Flying was the very breath of life to me and I was successful because I loved it so much.
I remember so vividly my first time aloft that I can still hear the wind swing in the wires as we glided down. By the time the pilot touched the wheels gently to earth, I knew my future in airplanes and flying was inevitable as the freckles on my nose.
I had been brought up to think that anyone could do anything he or she put his or her mind to, so I was shocked to learn that the world had stereotypes it didn't want tampered with. In an age when girls were supposed to be seen and not heard, look beautiful, and occasionally faint, I didn't seem to fit in anywhere.
It had long since come to my attention that people of accomplishment rarely sat back and let things happen to them. They went out and happened to things."
It sometimes happens, even in the best of families, that a baby is born, his is not necessarily cause for alarm. The important thing is to keep your wits about you and borrow some money.
The day I need a television puppet or clown to tell my children what's right and what's wrong, I'll bow out as a mother.