The Hempstead Plains Gallery, 1904-1913.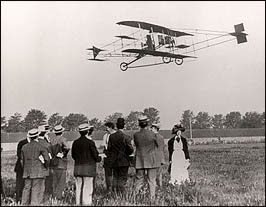 Herring-Curtiss No. 1 Golden Flyer (replica), Hammondsport, New York, 1909.
Long Island's first successful aircraft flights were made by this aircraft in July 1909 on a portion of the Hempstead Plains near where the county courthouses now are. By virtue of this first flight, the aviation industry on Long Island was born. Aviation pioneer Glenn Curtiss was commissioned by the New York Aeronautic Society to provide an aircraft for $5000. The group set up camp on the Hempstead Plains near Mineola as the area was flat, open, with an absence of trees. There was plenty of room to maneuver. The Herring-Curtis s Company, which lasted but a year, was formed by Curtiss and local aviation pioneer Augustus Herring. This was however, the first American company to build and sell an airplane. The plane flew well for its day and was very maneuverable.