Major Oscar Perdomo
WWII Fighter Pilot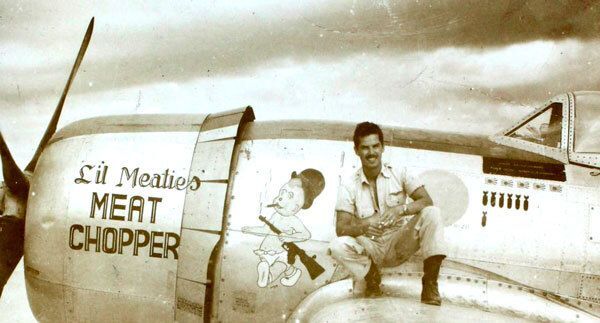 [ Scroll down for English translation ]
El Mayor Oscar Francis Perdomo era hijo de inmigrantes mexicanos y nació el 14 de junio de 1919 en El Paso, Texas. Cinco años después de su nacimiento, su familia se trasladó a California, a la ciudad de Los Ángeles. Después de que Perdomo recibiera la educación requerida, en febrero de 1943, Perdomo ingresó en las Fuerzas Aéreas del Ejército (AAF) como cadete de aviación. Recibió entrenamiento en Phoenix, Arizona, y en Minter Field, California. Tras graduarse en la escuela de vuelo el 7 de enero de 1944, se convirtió brevemente en uno de los instructores de la escuela. Poco después, solicitó ser enviado al servicio en el extranjero en la Segunda Guerra Mundial. En la Escuela de Vuelo Básico de las Fuerzas Aéreas del Ejército, en Chico, California, recibió formación adicional como piloto de un Republic P-47 Thunderbolt. Durante una misión de barrido sobre Kyushu, Japón, en 1945, en servicio con el 507º Grupo de Combate, derribó cinco aviones enemigos en su Republic P-47 Thunderbolt, "Li'l Meatie's Meat Chopper" (serie 44-88211), convirtiéndose en el último As de la Segunda Guerra Mundial. Se le concedió la Cruz del Servicio Distinguido y la Medalla del Aire con un racimo de hojas. 
Después de la guerra, se incorporó a la Reserva y fue llamado al servicio activo durante la Guerra de Corea. Dejó el servicio militar en 1958 con el rango de Mayor. Falleció trágicamente el 2 de marzo de 1976. Entre sus condecoraciones y premios se encuentran la Cruz de Servicios Distinguidos, la Estrella de Plata y la Medalla del Aire.
---
Major Oscar Francis Perdomo was the son of Mexican immigrants, born on June 14, 1919 in El Paso, Texas. Five years after his birth, his family moved to California to the city of Los Angeles. After Perdomo received the required education, in February 1943, Perdomo entered the Army Air Forces (AAF) as an aviation cadet. He underwent training in Phoenix, Arizona, and Minter Field, California. After he graduated from flight school January 7, 1944, and briefly became one of the school's instructors. Soon after, he requested to be sent into overseas service in World War II. At the Army Air Forces Basic Flight School at Chico, California, he underwent further training as a RepublicP-47 Thunderbolt pilot. While on a sweep mission over Kyushu, Japan in 1945, in service with the 507th Fighter Group, he shot down five enemy planes in his Republic P-47 Thunderbolt, "Li'l Meatie's Meat Chopper" (serial 44-88211), to become the last ace of World War II. He was awarded the Distinguished Service Cross and the Air Medal with one leaf cluster. 
After the war, he joined the Reserve and was recalled to active duty during the Korean War. He left military service in 1958 with the rank of Major. He passed away tragically on March 2, 1976.