Javier Ramos
Captain - JetBlue Airways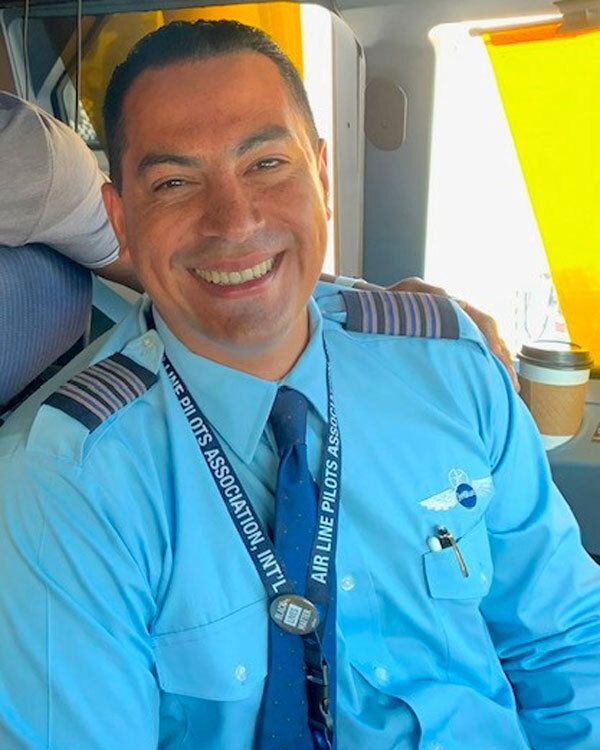 [ Scroll down for English translation ]
Nacido en Bayamón (Puerto Rico), de padre barbero y madre profesora de secundaria, la trayectoria de Javier Ramos estuvo marcada desde muy temprana edad. Su fascinación por el vuelo surgió durante su primer viaje en avión, a la tierna edad de 3 años, y despertó en él una ambición inquebrantable por convertirse en piloto de aerolíneas.
Tras graduarse de la secundaria en 1998, comenzó sus estudios en la Universidad de Puerto Rico durante un año antes de trasladarse a la Universidad Aeronáutica Embry Riddle. En 2002, obtuvo con orgullo un título en Estudios Aeroespaciales, un logro significativo que allanó el camino para su odisea en la aviación.
Las aspiraciones del Sr. Ramos le llevaron a la vibrante ciudad de Nueva York, donde puso un pie como técnico de servicio de línea en el aeropuerto del condado de Westchester, empapándose de los matices de las operaciones de aviación. Esta etapa no fue más que el preludio de su papel como instructor de vuelo en el aeropuerto Republic de Farmingdale, Nueva York. Este puesto le permitió impartir su sabiduría aeronáutica a aviadores principiantes.
En 2005 hizo realidad el sueño de su vida: volar como piloto de la compañía Express Jet Airlines, con sede en Newark (Nueva Jersey). Pero ésta fue sólo la primera etapa de su carrera. En 2008, subió aún más alto al incorporarse a la compañía JetBlue Airways.
Los años siguientes trajeron consigo logros notables. En 2014, el Sr. Ramos ascendió al rango de capitán, comandando el avión A320 en extensas rutas que cubrían Estados Unidos, América Latina y el Caribe. Sin embargo, su narrativa se extendió más allá de la cabina; en 2018, desempeñó un papel fundamental en la coordinación de una huelga histórica a través de la Asociación Internacional de Pilotos de Aerolíneas, abogando por contratos equitativos que beneficiaran a sus compañeros pilotos.
Con el transcurso de su vida, fue abriendo nuevos horizontes y dirigió vuelos transatlánticos a partir de 2022. Más allá de la aviación, sus pasatiempos eran el esquí, el surf y el atletismo. El trabajo voluntario en el sindicato de pilotos le proporcionó una plataforma para retribuir a la comunidad aeronáutica que había alimentado sus aspiraciones.
La historia de la vida del Sr. Ramos subraya la potencia de los sueños, la diligencia y la dedicación rotunda. Desde aquel vuelo trascendental en Puerto Rico hasta el mando de viajes transoceánicos, sigue navegando por el firmamento ilimitado y las corrientes de la existencia con el mismo asombro que encendió su viaje. Acompáñele mientras recorre los cielos infinitos, abrazando cada perspectiva y desafío a lo largo de esta extraordinaria trayectoria.
---
Born in Bayamon, Puerto Rico, to a barber father and a high school teacher mother, Javier Ramos's trajectory was set from a young age. His fascination with flight ignited during his inaugural plane journey at the tender age of 3, sparking an unwavering ambition to become an airline pilot.
After graduating high school in 1998, he commenced his academic pursuit at the University of Puerto Rico for a year before transferring to Embry Riddle Aeronautical University. In 2002, he proudly earned a degree in Aerospace Studies, a significant milestone that paved the way for his aviation odyssey.
Mr. Ramos's aspirations led him to the vibrant city of New York, where he set foot as a line service technician at Westchester County Airport, imbibing the nuances of aviation operations. This phase was merely a prelude to his role as a flight instructor at Republic Airport in Farmingdale, NY. This position allowed him to impart his aeronautical wisdom to budding aviators.
The year 2005 marked the realization of his lifelong dream, as he took to the skies as an airline pilot with Express Jet Airlines, headquartered in Newark, NJ. But this was only the first leg of his journey. In 2008, he soared even higher by joining JetBlue Airways.
Subsequent years brought remarkable accomplishments. In 2014, Mr. Ramos ascended to the rank of Captain, commandeering the A320 aircraft on extensive routes covering the USA, Latin America, and the Caribbean. However, his narrative extended beyond the cockpit; in 2018, he played an instrumental role in orchestrating a historic picket through the Airline Pilots Association, International, advocating for equitable contracts benefiting his fellow pilots.
As the chapters of his life unfolded, he embraced novel horizons, steering transatlantic flights commencing in 2022. Beyond aviation, his pursuits encompassed skiing, surfing, and running. Volunteering for the pilots' union provided him with a platform to give back to the aviation community that had nurtured his aspirations.
Mr. Ramos's life story underscores the potency of dreams, diligence, and resolute dedication. From that seminal flight in Puerto Rico to commanding transoceanic voyages, he continues to navigate the boundless firmament and the currents of existence with the same wonder that kindled his journey. Accompany him as he traverses the endless skies, embracing every prospect and challenge along this remarkable expedition.