Fernando Caldeiro
Astronaut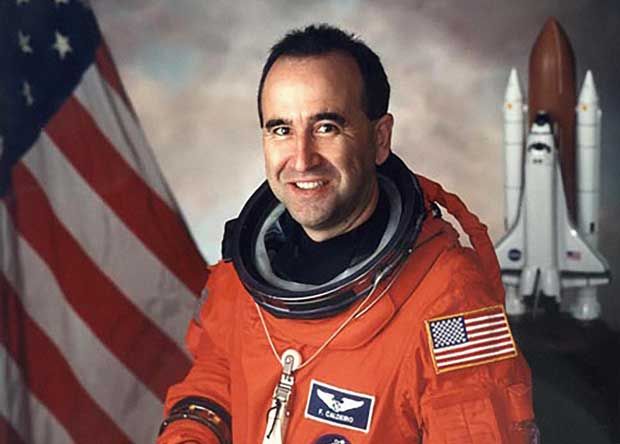 [ Scroll down for English translation ]
El 12 de junio de 1958, Fernando Caldeiro nació en Bueno Aires, Argentina, pero considerado la ciudad de Nueva York y Merrit Island, Florida su ciudad de residencia. Caldeiro emigró a los Estados Unidos a la edad de 16 años sin hablar una palabra en inglés. Se estableció por primera vez en Flushing, Nueva York. En 1978, obtuvo su título asociado en ciencias aplicadas en tecnología aeroespacial de la Universidad Estatal de Nueva York en Farmingdale. En 1984, obtuvo su Licenciatura en ingeniería mecánica de la Universidad de Arizona. En 1985, Caldeiro obtuvo su Maestría en Ciencias en Administración de Ingeniería de la Universidad de Florida Central.
Desde 1985 a 1988, Caldeiro trabajó como director de pruebas durante la prueba de producción y vuelo del Bombardero Rockwell/USAF B-1B. En esa capacidad participó en el pago y la entrega de los 100 aviones. En 1988, Rockwell International lo transfirió al Centro Espacial Kennedy como especialista en sistemas de propulsión principales del transbordador espacial. No fue hasta 1991 que el Centro Espacial Kennedy lo contrató como un experto en criogenia y sistemas de propulsión para la oficina de seguridad y aseguramiento de la misión. Participó en 52 lanzamientos de transbordadores durante sus ocho años de mandato en el Centro Espacial Kennedy.
En abril de 1996, Caldeiro fue seleccionado por la NASA como candidato a +astronauta. No fue hasta agosto de 1996 que Caldeiro reportó al Centro Espacial Johnson para comenzar a entrenar. Después de dos años de entrenamiento y evaluación, fue elegible para la asignación de vuelo como especialista de misión. En 1997 fue asignado a la Subdivisión de Operaciones de la Estación de la Oficina de Astronautas, donde se desempeñó como astronauta principal de la Estación Espacial Internacional de Controles Ambientales y Sistemas de Soporte Vital y los módulos de estaciones construidas por Europa. En esa capacidad participó en todos los aspectos de las revisiones de diseño y fabricación para el Módulo de Logística Multipropósito (MPLM), Nodo 2, Módulo Columbus y Cúpula, así como en las comprobaciones de ajuste de equipos. Sus funciones incluían apoyo para el desarrollo de procedimientos de vuelo y mantenimiento. Desde junio de 2005 a diciembre de 2006, Caldiero se desempeñó como astronauta principal a cargo de las pruebas de software de transbordador en el Laboratorio de Integración de Aviónica del Transbordador. Los deberes incluían el diseño, las pruebas especiales y la verificación de los procedimientos de mantenimiento en vuelo. En enero de 2006, Caldeiro fue reasignado al Programa de Investigación de Gran Altitud del WB-57 en Operaciones de Tripulación de Vuelo, División de Operación de Aeronaves (AOD) en Ellington Field, donde dirigió la integración y operación de experimentos de investigación atmosférica de gran altitud llevados a bordo de los aviones WB-57 de la NASA.
Caldeiro aunque completo su entrenamiento de Astronauta, el nunca viajo al espacio. Después de una larga batalla por dos años y medio contra el cáncer del cerebro, Fernando Caldeiro falleció el 3 de octubre del 2009.
---
On June 12, 1958, Fernando Caldeiro was born in Bueno Aires, Argentina, but considered New York City and Merrit Island, Florida his hometown. Caldeiro immigrated to the United States at the age of 16 not speaking a word in English. He first settled in Flushing, NY. In 1978, he earned his associate degree in applied science in aerospace technology from the State University of New York at Farmingdale. In 1984, he obtained his Bachelor's degree in mechanical engineering from the University of Arizona. In 1985, Caldeiro obtained his Master of Science degree in Engineering Management from the University of Central Florida.
From 1985-1988, Caldeiro worked as a test director during the production and flight test of the
Rockwell/USAF B-1B Bomber. In that capacity, he was involved in the checkout and delivery of all 100 aircraft. In 1988, Rockwell International transferred him to the Kennedy Space Center as a space shuttle main propulsion system specialist. It was not until 1991 that Kennedy Space Center hired him as a cryogenics and propulsion systems expert for the safety and mission assurance office. He participated in 52 shuttle launches during his eight-year tenure at Kennedy Space Center.
In April of 1996, Caldeiro was selected by NASA as an astronaut candidate. It wasn't until August of 1996 that Caldeiro reported to the Johnson Space Center to start training. After two years of training and evaluation, he was qualified for flight assignment as a mission specialist. In 1997 he was assigned to the Astronaut Office Station Operations Branch, where he served as a lead astronaut of the International Space Station Environmental Controls and Life Support Systems and the European-built station's modules. In that capacity, he was involved in all aspects of design and manufacturing reviews for the MPLM, Node 2, Columbus Module, and Cupola as well as equipment fit checks. His duties included support for the development of flight and maintenance procedures. From June 2005 to December 2006 Caldiero served as the lead astronaut in charge of shuttle software testing at the Shuttle Avionics Integration
Laboratory. Duties included design, special testing, and verification of in-flight maintenance procedures. In January 2006 Caldeiro was reassigned to the WB-57 High Altitude Research Program at Flight Crew Operations, Aircraft Operation Division (AOD) at Ellington Field where he directed the integration and operation of high altitude atmospheric research experiments carried onboard the NASA WB-57 aircraft.