Have a BLAST at your Birthday Party!
Let us fly around and do the work for you! We offer exciting birthday parties for young aviators from toddlers to teens. Created for different ages, our parties include great hands-on activities, friendly guides and an extraordinary environment.
Cradle of Aviation Museum Birthday Parties Include
Two Hour Guided Party
Invitations
'Out-of-this-World' Activity (see party themes)
Age Appropriate Craft Activity
Pizza, Soda and Juice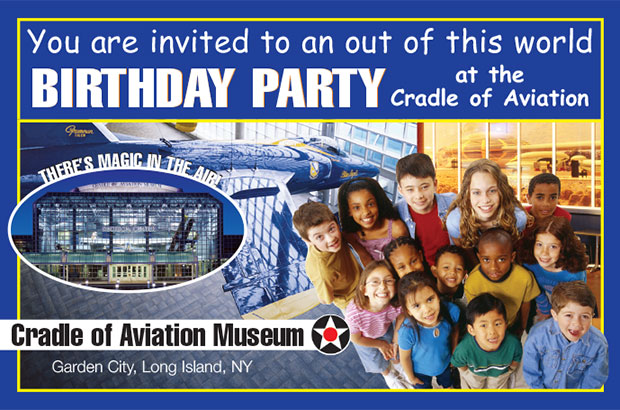 Birthday Party Themes
Treasure Hunt (all ages)
Ahoy mates! Join us on this fun and interactive treasure hunt through the museum galleries. Search for clues among the airplanes to find the hidden treasure chest!
Earn Your Wings (ages 6 and up)
Earn your wings in this high flying pilot training adventure! Sit in 6 different cockpits while you learn the secrets of flight!
One World One Sky (ages 6 and under)
Join Elmo in this Giant Dome Theater romp around the universe wearing a feathered Big Bird hat that you create!
Escape the Moon (ages 10 and up, adults too!)
Try to escape the lunar surface far out in space that has only one hour left until its demise! Only teamwork can return your crew back to Earth before it is too late. Failure is not an option!
Planetarium/Movie Party (ages 5 and up)
See your name up in lights on the giant dome before experiencing a planetarium show or movie like you've never seen before!
Important Information: A $100.00 deposit is required to hold the date. 48 hour advance notice is required for adjustments. Your own cake can be left with our staff who will also cut and serve it for you. Sorry, balloons and outside food are not allowed!
For additional details and to reserve your date, please call 516-572-4066 (Monday-Friday, 10-4) or use the contact form below.
Ask about adding on a Carousel ride or Dome Theater Show.
---