STEM @ Home
BRINGING STEM EDUCATION TO THE COMFORT OF FAMILIES' HOMES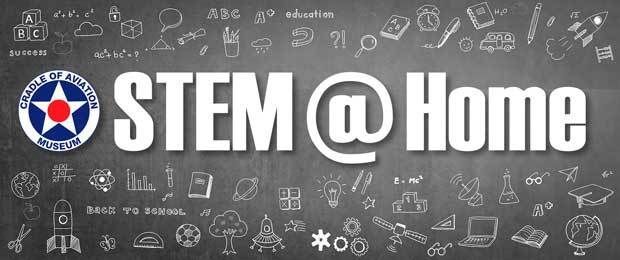 The Cradle of Aviation Museum is proud to announce STEM@HOME TUESDAYS, a series of online video activities designed to provide free, stimulating, family fun STEM activities at home for elementary-aged kids K-5. New content appearing on Tuesdays, includes supply lists, downloadable activity sheets (if required), and instructional videos.
Science of Flight (Bats): Some say there are witches in the air on Halloween night and maybe werewolves out there howling to the Full Moon, but those are just stories. There are flying creatures that lurk in the night! Bats! Follow our educator to build your own Popsicle stick bat and learn about how bats fly along the way.
Color Changing - Leaf Art: Make the perfect fall artwork for your fridge. Start this program by going on a backyard scavenger hunt to find some leaves! Leaves should be strong (not dried out and brittle); then follow our educator along as he/she uses those leaves to make a masterpiece!
Pixel Activity: Did you know many of the graphics you see on TV, your computer, and a video game are made of tiny dots called pixels?! Well, pixels have come a long way in helping viewers see a full image or character clearly. Today, follow our educator to make arguably the most popular video game character ever – Mario and Luigi!
Aviation Crossword and Word Search: November is National Aviation Month! Celebrate with the Museum by uncovering some clues of our Museum galleries in the crossword puzzle, or finding all the pilots and planes in our word search.
STEM Career Expo: Our corporate partners have created a small series of videos (some from their own homes) to help students gain an understanding of real-world skills, make connections between academics and business, and learn about the workforce.
Gingerbread House Builds: Be a part of our engineering challenge! Sure, we all know the story of the Three Little Pigs and the best, strongest house, but can you engineer the best gingerbread house! Build a house of colorful treats able to stand on its own.
Celebrating the Wright Brothers and the Airplane: The Wright Brothers first took flight on December 17, 1903. Learn a little bit about their flight and using math, follow along with our educator to color in the picture.
Constellation Finder - The sky is full of stars and shapes. When you "connect-the-dots" from different stars you get a constellation. Many times these stories of constellations come from ancient civilizations. Make a star finder to discover where the constellations are in our night sky.
Sc-Fi Science - Make a Hologram - In this STEM-at-home activity, you'll create your own little bit of sci-fi by creating a hologram that is actually an illusion called "Pepper's Ghost." 
Snowflake Symmetry is a fun art activity to teach the concept of symmetry. Symmetry occurs when an object has two completely identical sides facing each other or around an axis.
STEM@HOME TUESDAYS are designed to help families spend fun quality time together while building self-esteem, strengthening bonds, and creating memories. With STEM occupations expected to grow over 76% higher than non-STEM jobs nationwide, according to the Bureau of Labor Statistics, STEM@HOME TUESDAYS are an easy way to introduce & experience activities related to Science, Technology, Engineering, & Math.
"Family time is always fun and learning can be fun too! Learning together instills a sense of wonder and discovery for the world around you. During a time when it can be difficult to adventure, we invite families to create together and to be a part of our Museum family bringing STEM to life from the comfort of their home." - Catherine Gonzalez, Education Director
New videos are released each Tuesday, and these videos are available to be watched and enjoyed at any time.