NFT Collection
Roosevelt Field Aviators - Exhibit and NFT Collection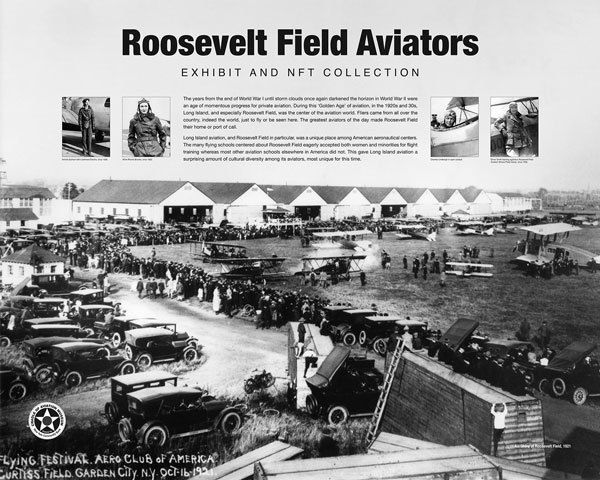 On Display
Roosevelt Field Aviators: Exhibit and NFT Collection, will be on display at the Roosevelt Field® shopping center from February 5th through March 13th. The exhibit will incorporate eight large panels of historic photos from the museum's archive celebrating the famous airfield, plus many of the brave and culturally diverse aviators that were photographed here in the 1920s and 1930s by local photographer John Drennan. Select photos will be available at auction as NFTs.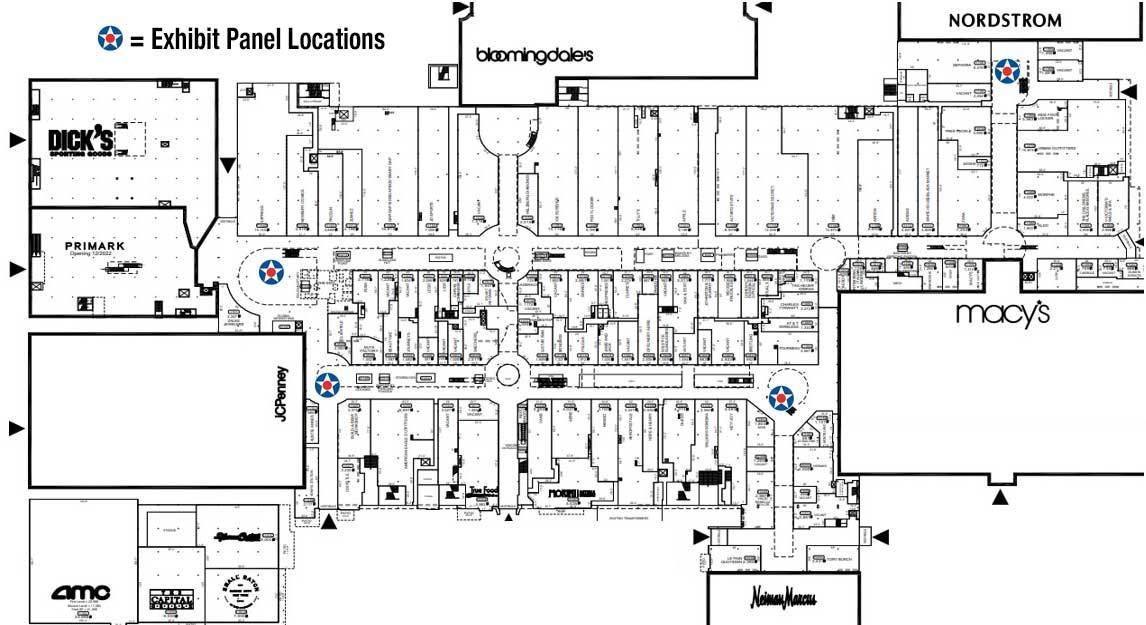 History
The years from the end of World War I until storm clouds once again darkened the horizon in World War II was an age of momentous progress for private aviation. During this Golden Age of aviation, Long Island, and especially Roosevelt Field, was the center of the aviation world. Fliers came from all over the country, indeed the world, just to fly or be seen here. The greatest aviators of the day made Roosevelt Field their home or port of call. Long Island aviation, and Roosevelt Field, in particular, was a unique place among American aeronautical centers. The many flying schools centered about Roosevelt Field eagerly accepted both women and minorities for flight training whereas most other aviation schools elsewhere in America did not. This gave Long Island aviation a surprising amount of cultural diversity among its aviators, most unique for this time.
Roosevelt Field Aviators - Exhibit and NFT Collection
The exhibit will feature an overview of the airfield's history during the Golden Age of aviation in the 1920s and 1930s, and an NFT collection of aviators, from famous to unknown, who were photographed here at that time. These remarkable photographs are from the Drennan Collection in the museum's archive and many have never been seen in public. NFTs are 'Non-Fungible Tokens' which are digital certificates of authenticity verified using blockchain technology. Proceeds from the sale of these NFTs will help fund the museum's education and preservation programs.
The NFTs will be available via auction this month on our Foundation page at https://foundation.app/@cradleofaviation. You will need Ethereum in a MetaMask wallet to participate. We recommend setting up a Coinbase or Gemini account to purchase Ethereum (ETH), you can then send your ETH to your MetaMask wallet. Welcome to Web 3.0. We have started a Discord server for our NFT community, please join us! https://discord.gg/jsMkd5XnCZ
About Roosevelt Field®
Celebrating 65 years as an expansive retail destination for fashion, discovery, and community, Roosevelt Field is owned and managed by Simon, headquartered in Indianapolis, Indiana. The center is anchored by Neiman Marcus, Bloomingdales, Nordstrom, Macy's, JCPenney, and Dick's Sporting Goods and has more than 250 specialty stores. It features a fast-casual Dining District along with The Restaurant Collection offering an eclectic mix of cuisine and is conveniently located at the intersection of Old Country Road and Meadowbrook Parkway in Garden City. For more information, please go to simon.com/mall/roosevelt-field