Competitions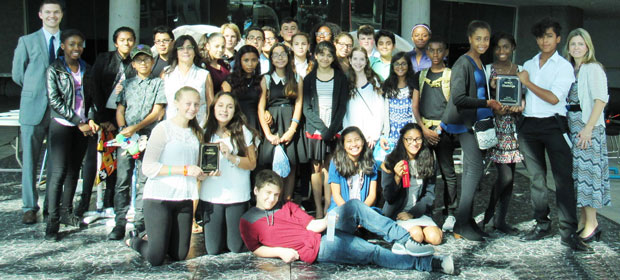 We strive to make the Cradle of Aviation Museum the best resource for the community that it can be. In that light, we are happy to host a growing list of competitions for young people from across Long Island to participate in, including Rockets, egg drops, model airplanes and more.
Click on the competition below that you are interested in for details, or call Kerri Mackay at 516-572-4008.
---
2015 iConnect Challenge Winners - High School
In the iConnect Challenge, students grades nine through twelve are asked to research educational apps. Then, using one of these "STEM-driven" apps, students will form teams of five to produce their own PSA commercial! This public service announcement video will aim to encourage the use of apps and mobile devices in their classrooms.
1st Place Winners
Wantagh High School - Emma Vines, Kyleigh Watson, Lyndsay Whiteman and Olivia Zukowski.
2nd Place Winners
Sacred Heart Academy - Sarah Biscardi, Meaghan Fitzgerald, Catherine Lynch, Leah McGovern and Nicolette Ocasio.
3rd Place Winners
Sacred Heart Academy - Khan Academy, Rory Harms, Emily Sanford, Kaitlin Shanahan and Brooke Williams.
---
2015 iConnect Challenge Winners - Middle School
Lawrence Woodmere Academy - Andrew Feldman, Adrian Dickson, Evan Newman, Harrison Schwartz, Macky Dancy and Jennifer Katzman.