Camp Group Visits
Take your Camp Group on a trip they'll never forget!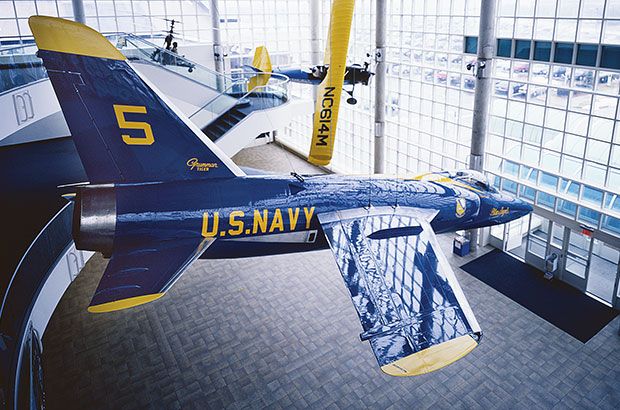 Call Reservations at 516-572-4066 (Monday-Friday) to reserve your date, or use the contact form below!
Explore over 150,000 air-conditioned square feet of the museum featuring 75 air and spacecraft from a hot air balloon to an actual Lunar Module. There are over 30 hands-on exhibits, a half dozen cockpits to climb into, and many short films through-out the exhibits.
Add-ons for your visit!
When you add on a planetarium show, museum class, or guided tour, a visit to the Cradle of Aviation Museum is an unforgettable and exciting field trip, right in your own backyard. The Cradle provides your group with a safe and spacious environment that's sure to please everyone. We're located in Garden City on the site of the historic Mitchel Field airbase right next to Nassau Community College and the Nassau Coliseum.
Planetarium
Our immersive full-dome planetarium is one of the largest and most powerful virtual reality experiences in the world! Check out the schedule and show descriptions here! Shows and showtimes here...
Camp Workshops
NEW! Code-a-Drone  30 minutes, grades 5–12
Drones are becoming more and more a part of everyday life and in this hands-on program, students will learn how they function. Students will learn how drones are programmed to fly safely and then have the opportunity to code a drone of their own to fly over, under, and around obstacles.
Living in Space 30 minutes, all grade levels
There are many things one needs to know before venturing up into space…like how does one survive? The most common and practical questions will be answered on what life is like in space. Students will discover where to sleep, what kind of food is available, what astronauts wear, and how they go to the bathroom. Students will even get to try on a spacesuit!
Rockets Away! 30 minutes, grades 4-12
Rocketry is an important development in modern-day science and technology. This program will guide students through historic milestones leading to some of the current uses of rockets. Demonstrations of basic rockets will be included.
Kites! 30 minutes, grades 1-3
3000 years ago the Chinese invented kites and today most of us have attempted to fly one. Learn how kites were precursors to airplanes and build your own kite.
Guided Tour
The History of Flight from Balloons to the Moon! 50 minutes, Ages 6–12
Now you can take a stroll through history from hot air balloons to a walk on the moon in under an hour. This museum educator-led program will take your group through the museum's collections focusing on the major events in aviation history from the early days of manned flight to Neil Armstrong's first steps on the lunar surface. The tour can be tailored to the needs and age level of each group. Maximum 25 campers per workshop or tour.
Virtual Field Trips for Campers
No buses or permission slips are required! With our virtual field trips for students and campers, teachers and counselors can take their groups on an interactive journey through aerospace history and participate in museum classes, all from the safety and comfort of your own space. Find all of the offerings here!
---
Lunch!
The Cradle of Aviation offers your group the option of purchasing a special box lunch or reserving tables for brown bagged lunches. Please ask a reservation assistant for available options.
---
Camp Group Rates and Reservation Information
| Museum | Planetarium | Museum & Planetarium Combo | Workshop | Guided Tour |
| --- | --- | --- | --- | --- |
| $12.00 | $10.00 | $20.00 | $2.00 | $3.00 |
Rates are per person, for campers and adults. Workshops and guided tours are add-ons to your base museum admission. Please contact Reservations at 516-572-4066, Monday through Friday, 10:00 am to 4:00 pm, to reserve your date or use the form below.
---