Volunteers
Meet some of our wonderful volunteers and learn about volunteer opportunities at the Cradle of Aviation Museum.
There is no "I" in Team but there is a "u" in volunteer!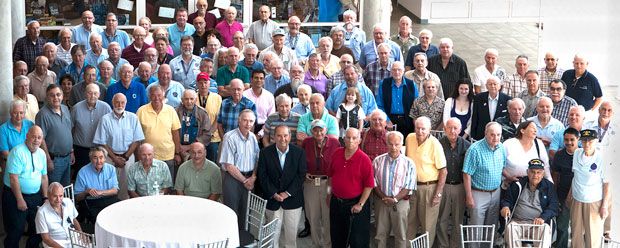 The Cradle of Aviation is looking for men and women who wish to volunteer a few hours of their time each week. The atmosphere is interesting and exciting and you will meet and work with community spirited people who share a love of aviation, Long Island history and friendship. We provide annual training and welcome individuals who are comfortable and enthusiastic about working with people.
As a member of our Volunteer Team you will enjoy the following benefits:
Free family admission to the museum
Admission to special Planetarium showings
Discounts at the Museum Store and the Red Planet Cafe
Two catered lunches & other scheduled events
Our team of volunteers is the pride of the Cradle of Aviation and you can become a part of this exciting family. COME JOIN US, and share in the satisfaction!

Volunteering Opportunities
Docent/Museum Guide
Share information with visitors. You do not have to be knowledgeable about aviation to make an impact here. Our large number of docents are passionate, committed and eager to assist newcomers.
Restoration
Our restoration members build aircraft parts and replica planes for exhibit. If you like to be creative and work with your hands, this might be the place for you. These volunteers are immensely proud of what they build.
Education Department
Part-time volunteers provide the following programs to the public:
School Groups – the museum presents a variety of programs about aviation, space exploration and Long Island's heritage of discovery to visiting school groups.
Public Programs – we offer family activities on weekends and holidays, as well as camps during the summer and vacation breaks.
Special Interests – the museum presents scout programs and special events for those seeking an in-depth look at a particular activity, exhibition or collection.
Outreach Programs – museum representatives travel to schools, libraries and community groups to make presentations of its programs.
Qualifications: Good public speaking skills. Enthusiastic and energetic. Experience in teaching or interacting with the general public preferred.
Museum Gift Shop
The Museum Gift Shop Volunteer would be trained as a cashier, restocking, dusting, cleaning, and keeping shelves organized/presentable.  There would be lifting of small boxes, light objects such as toys etc. 
Theater Monitor
The Theater Monitor helps to keep a clean and orderly environment in the museum's Jet Blue Sky Theater Planetarium; checking in guests prior to each show and helping guests exit safely.
Information Monitor
The Information Monitor will help direct visitors and answer general questions about the Cradle of Aviation Museum facilities, resources and services in the surrounding area and associated organizations.
Junior Jet Club Attendant
The Junior Jet Club Attendant will have the opportunity to help inspire some of our youngest visitors; Families with children ages 2-6yrs old frequent our Junior Jet Club. This volunteer will help to keep a fun, clean and safe environment for little tikes to explore books, toys and exhibits in the space.  
---
Join our Junior Docents!
High school docents are welcome to the Museum in either fall or summer
Must be 16+
Must complete a minimum of 8 hours per month (Sept to May) or 8 hours per week (June to Aug)
Our Junior Docent program helps students ages 16+ explore science and history-related careers while serving the public at the museum.
---
Please contact us via the form below.