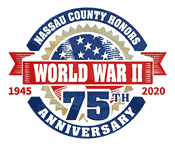 75th Anniversary of the End of WWII
We're commemorating the 75th anniversary of the end of World War II in coordination with Nassau County, the Museum of American Armor, and the Holocaust Memorial & Tolerance Center. Check back soon for rescheduled events due to the current health crisis.
Virtual Museum Home > World War Two
World War Two
During World War Two, Long Island was a crucial center of military aircraft production. These aircraft, produced in huge numbers for the Army, Navy, and foreign governments, were of superior quality and had a major impact on the course of the war in all theatres. Local residents provided the manpower necessary for this massive production, and women and minorities were integrated into the workforce in large numbers for the first time. The war also had an impact on Long Island in terms of a large military presence, civilian defense, and the conditions the war imposed at home.
In the pages below, you will find some of the stories and details about the planes, companies, and people involved in the war effort.
From 1942 to 1945, while men fought on the battlefronts of WWII, over 18 million American women filled civilian and military positions created as the country shifted to wartime. During WWII, most of Grumman's 25,000 employees, half of them women, worked tirelessly in aircraft factories and shipyards, producing much-needed fighters, bombers, and battleships. The WASP (Women Airforce Service Pilots) were the first American women to fly military aircraft for the US Army Air Force on the US homefront.
Visit our Women in Aviation section to learn more about this great history.