Dr. Ellen Ochoa
NASA Astronaut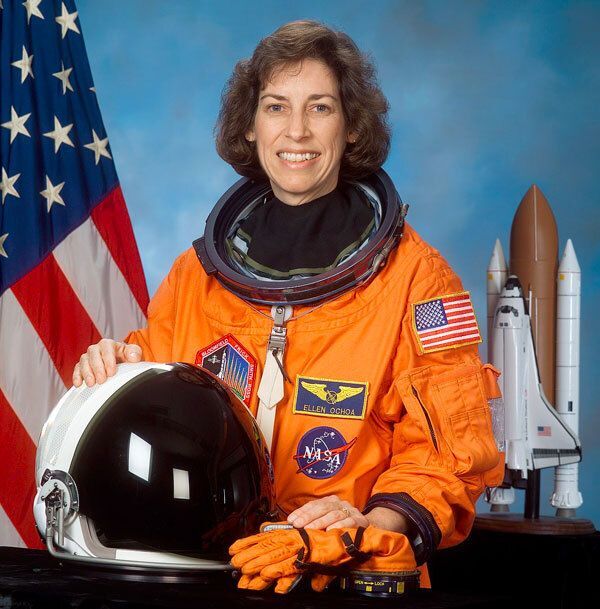 [ Scroll down for English translation ]
La Dra. Ellen Ochoa, veterana astronauta, fue la undécima directora del Centro Espacial Johnson. Fue la primera directora hispana del Centro Espacial Johnson y la segunda mujer directora.   Entre sus anteriores funciones directivas se encuentran la de subdirectora del Centro y la de directora de operaciones de la tripulación de vuelo.   
Ochoa se incorporó a la NASA en 1988 como ingeniera de investigación en el Centro de Investigación Ames y se trasladó al Centro Espacial Johnson en 1990 cuando fue seleccionada como astronauta.  Se convirtió en la primera mujer hispana en ir al espacio cuando participó en la misión STS-56 de nueve días a bordo del transbordador espacial Discovery en 1993. Ha volado en el espacio en cuatro ocasiones, incluyendo las misiones STS-66, STS-96 y STS-110, registrando casi 1.000 horas en órbita.  
Nacida en California, Ochoa se licenció en física por la Universidad Estatal de San Diego y obtuvo un máster y un doctorado en ingeniería eléctrica por la Universidad de Stanford.  Como ingeniera de investigación en los Laboratorios Nacionales Sandia y en el Centro de Investigación Ames de la NASA, Ochoa investigó sistemas ópticos para el procesamiento de información. Es coinventora de tres patentes y autora de varios artículos técnicos.  
Ochoa ha sido reconocida con el máximo galardón de la NASA, la Medalla al Servicio Distinguido, y el Premio Presidencial al Rango Distinguido para-altos ejecutivos del gobierno federal. Ha recibido muchos otros premios y se siente especialmente honrada de tener seis escuelas con su nombre. Es miembro de la Asociación Americana para el Avance de la Ciencia (AAAS) y del Instituto Americano de Aeronáutica y Astronáutica (AIAA), forma parte de varios consejos y preside el Comité de Evaluación de Nominaciones para la Medalla Nacional de Tecnología e Innovación.    
Está casada con Coe Miles, abogado especializado en propiedad intelectual. Tienen dos hijos.
---
Dr. Ellen Ochoa, a veteran astronaut, was the 11th director of the Johnson Space Center. She was JSC's first Hispanic director and its second female director.   Her previous management roles include Deputy Center Director and Director of Flight Crew Operations.  
Ochoa joined NASA in 1988 as a research engineer at Ames Research Center and moved to Johnson Space Center in 1990 when she was selected as an astronaut.  She became the first Hispanic woman to go to space when she served on the nine-day STS-56 mission aboard the space shuttle Discovery in 1993. She has flown in space four times, including STS-66, STS-96 and STS-110, logging nearly 1,000 hours in orbit. 
Born in California, Ochoa earned a bachelor's degree in physics from San Diego State University and a master's degree and a doctorate in electrical engineering from Stanford University.  As a research engineer at Sandia National Laboratories and NASA Ames Research Center, Ochoa investigated optical systems for performing information processing. She is a co-inventor of three patents and author of several technical papers. 
Ochoa has been recognized with NASA's highest award, the Distinguished Service Medal, and the Presidential Distinguished Rank Award for senior executives in the federal government. She has received many other awards and is especially honored to have six schools named for her. She is a Fellow of the American Association for the Advancement of Science (AAAS) and the American Institute of Aeronautics and Astronautics (AIAA), serves on several boards, and chairs the Nomination Evaluation Committee for the National Medal of Technology and Innovation.   
She is married to Coe Miles, an intellectual property attorney. They have two sons.