Elisa Quintana
Astrophysicist - Goddard Space Flight Center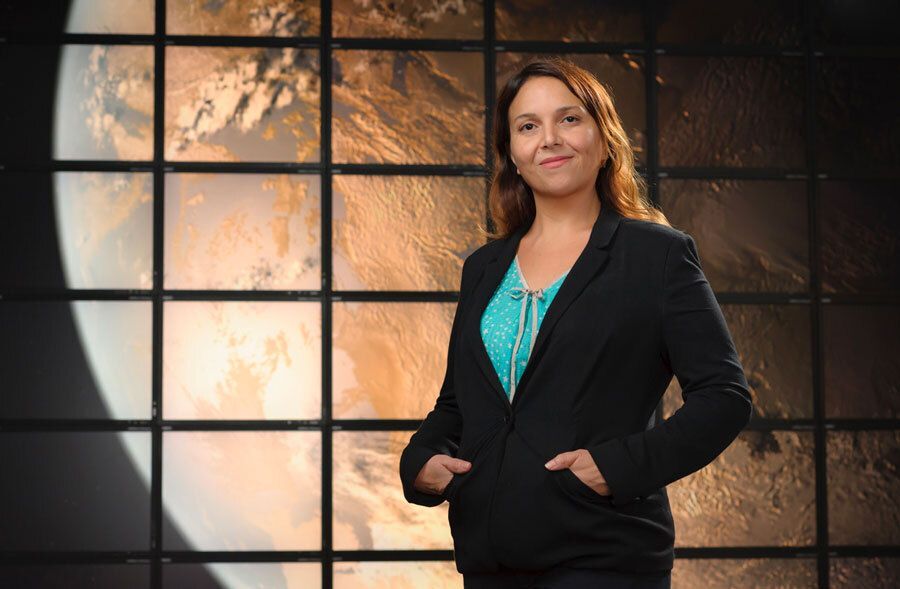 [ Scroll down for English translation ]
Conozca a Elisa Victoria Quintana, una brillante científica que trabaja en el ámbito de la astronomía y la ciencia planetaria del Centro Goddard de Vuelos Espaciales de la NASA. La investigación de vanguardia de Elisa profundiza en la detección, caracterización y comprensión de la formación de exoplanetas. Obtuvo reconocimiento por su revolucionario descubrimiento de Kepler 186f, el primer planeta del tamaño de la Tierra situado en la zona habitable de una estrella más allá del Sol.
Originaria de Silver City, Nuevo México, Elisa creció en una familia fascinante: su padre, Leroy Quintana, es un reconocido poeta chicano, mientras que su abuelo apareció como minero en la película de la lista negra La sal de la tierra. Tras mudarse a San Diego con sólo nueve años, su trayectoria académica la llevó del Grossmont College a la Universidad de California en San Diego. Tras graduarse en Física, Elisa tuvo la extraordinaria oportunidad de trabajar en astrodinámica y en KidSat (ahora EarthKAM), mientras era asesorada por Sally Ride, la primera mujer astronauta de Estados Unidos.
Con una insaciable sed de conocimientos, Elisa obtuvo un máster en Ciencias Aeroespaciales y Física en la prestigiosa Universidad de Michigan. Su dedicación culminó con un doctorado en Física en 2004. Su tesis exploró la formación de planetas en sistemas estelares binarios, lo que la convirtió en una de las investigadoras pioneras en analizar Alfa Centauri en busca de posibilidades de formación planetaria.
Desde 2006 hasta 2017, Elisa desempeñó un papel fundamental como parte del equipo de la misión Kepler de la NASA en su Centro de Investigación Ames. Sus extraordinarios esfuerzos en el desarrollo del sistema Kepler no solo le otorgaron el premio Software del Año de la NASA en 2010, sino que también dieron lugar a numerosos descubrimientos revolucionarios, como Kepler-10b, el primer exoplaneta rocoso, Kepler-22b y Kepler-20e. Bajo la dinámica dirección de Elisa, el equipo descubrió Kepler-186f, un exoplaneta del tamaño de la Tierra en órbita alrededor de una zona habitable de una estrella enana roja. Este notable descubrimiento fue galardonado con el premio Científico del Año 2015 de "Grandes Mentes en STEM" (Great Minds in STEM).
Ahora, Elisa investiga la frecuencia de los impactos masivos en exoplanetas y los compara con los que se han registrado en la Tierra. Fue trasladada en 2017 al Centro Goddard de Vuelos Espaciales, en Maryland, donde trabaja como directora científica del proyecto relacionado con el transitorio satélite de exploración de exoplanetas y el telescopio espacial Nancy Grace Roman.
El trabajo innovador de Elisa, una de las pocas mujeres astrónomas hispanas, ha dejado una huella inborrable tanto en la ciencia como en la comunidad latina. En 2014, el Centro de Teatro de Los Ángeles conmemoró su extraordinario legado otorgándole el prestigioso Premio Lupe Ontiveros al Sueño
---
Meet Elisa Victoria Quintana, a brilliant scientist working in NASA Goddard Space Flight Center's realm of astronomy and planetary science. Elisa's cutting-edge research delves deep into detecting, characterizing, and understanding the formation of exoplanets. She gained recognition for her groundbreaking discovery of Kepler 186f, the first-ever Earth-sized planet located in the habitable zone of a star beyond the Sun. Where in mexico? Family – mexican decent
Hailing from Silver City, New Mexico, Elisa grew up in a fascinating family—her father Leroy Quintana is a renowned Chicano poet, while her grandfather featured in the blacklisted film Salt of the Earth as a miner. Moving to San Diego at just nine years old, her academic journey took her from Grossmont College to the University of California at San Diego. Earning a Bachelor of Science degree in Physics, Elisa had the remarkable opportunity to work on astrodynamics and KidSat (now EarthKAM)—all while being mentored by Sally Ride, America's first female astronaut.
 With an insatiable thirst for knowledge, Elisa pursued Master's degrees in both Aerospace Science and Physics from the prestigious University of Michigan. Her dedication culminated in a Ph.D. in Physics awarded in 2004. Her thesis explored planet formation within binary star systems and made her one of the pioneering researchers to scrutinize Alpha Centauri for planetary formation possibilities.
 From 2006 to 2017, Elisa played an instrumental role as part of NASA's Kepler Mission Team at its Ames Research Center. Her outstanding efforts in developing the Kepler pipeline not only earned her NASA's Software of the Year award in 2010 but also resulted in numerous groundbreaking discoveries like Kepler-10b—the first rocky exoplanet—Kepler-22b and Kepler-20e. Under Elisa's dynamic leadership, the team discovered Kepler-186f—an Earth-sized exoplanet orbiting a habitable zone of a red dwarf star. This remarkable discovery earned Elisa the 2015 Scientist of the Year award from Great Minds in STEM.
 Now, Elisa investigates the frequency of colossal impacts on exoplanets and compares them with Earth's occurrences. In 2017, she transitioned to the Goddard Space Flight Center in Maryland, where she serves as Deputy Project Scientist for both the Transiting Exoplanet Survey Satellite and the Nancy Grace Roman Space Telescope.
 As one of the rare female Hispanic astronomers, Elisa's trailblazing work has left an indelible mark on science and the Latino community alike. In 2014, the Los Angeles Theatre Center commemorated her extraordinary legacy by presenting her with the prestigious Lupe Ontiveros Dream Award.