Grumman TBM-3E Avenger
Galleries & Exhibits Home > Grumman TBM-3E Avenger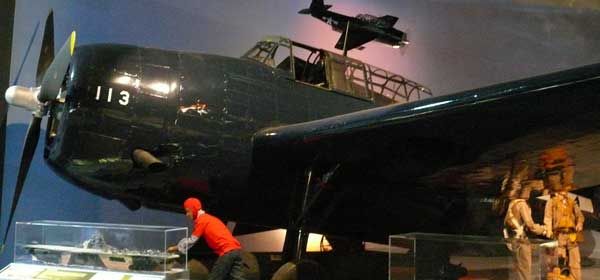 Grumman TBM-3E Avenger, Bethpage / Trenton, 1945
Specifications:
Wingspan: 54' 2"
Length: 40'
Engine: 1700 hp Wright R-2600
Top Speed: 271 mph
Weight: 10,080 lbs.
The famed TBF Avenger was first contracted for by the U.S.Navy in 1940. Its first public showing was on December 7, 1941, at a Grumman "Open House". In light of events in the Pacific that day, the aircraft was subsequently named the "Avenger". Flying from aircraft carriers and land bases, Avengers became the standard Navy torpedo bombers of World War Two. Most operated in the Pacific but some saw action in the Atlantic. The Avenger carried a crew of three and either a torpedo, bombs or depth charges in its bomb bay. The aircraft also featured a Grumman-designed power turret. These aircraft were used in the great naval battles of World War Two which became, in the main, contests between opposing fleets of aircraft. Grumman production continued at Bethpage until 1944. In 1942, General Motors was contracted to manufacture the aircraft, as Grumman needed to be freed up for F6F Hellcat production. The total production was 9839 Avengers.
The Grumman Avenger was the most important carrier-based torpedo bomber on American and British carriers during World War Two. They were also the biggest and heaviest carrier aircraft of the war. Ultimately, their telling blows with torpedoes, bombs, depth charges, and rockets did much to bring about the Japanese surrender. They were not only highly successful in destroying enemy naval and land targets, but they also played instrumental roles in many of the major battles of the Pacific. Avengers served with distinction in actions in the Marshall and Gilbert Islands, and the Battles of the Philippine Sea, Leyte, Iwo Jima, and Guadalcanal. They also operated off U.S. carriers in the Atlantic searching for German submarines and with the British in the Atlantic and Mediterranean.
On Loan: Friends For Long Island's Heritage, sponsored by Mrs.William P. Schwendler