Scouts BSA Merit Badge Programs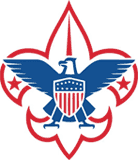 All Scouts BSA Merit Badge programs at the Cradle are lead by certified counselors. 2 troop leaders are required and admitted free for all programs. A minimum of ten scouts is required for all Boy Scout programs and a maximum of 25. Sorry, non-scout siblings are not allowed in Scout programs. 
For more information, please use the form below.
To make a reservation, please call (516) 572-4066, Monday through Friday from 10 am to 4 pm.
Merit Badges
[ Please Note: The Space Exploration badge program is on hold until the Fall ]

Space Exploration 3 1/2-hour program, $35 for Scouts
Build & launch your own rocket (weather permitting). Explore the museum's space gallery. Design a moon base. See one of only three Lunar Modules on Earth.
Aviation 2 1/2-hour program, $20 for Scouts 
Discover how planes fly. Build your own glider. Take a guided tour through the museum. Learn to read cockpit instruments. Perform a pre-flight inspection of an airplane.
Want to learn more about the Boy Scout programs? Please use the form below, or to make a reservation, call 516-572-4066 (M-F, 10-4).