Michael E. López-Alegría
NASA Astronaut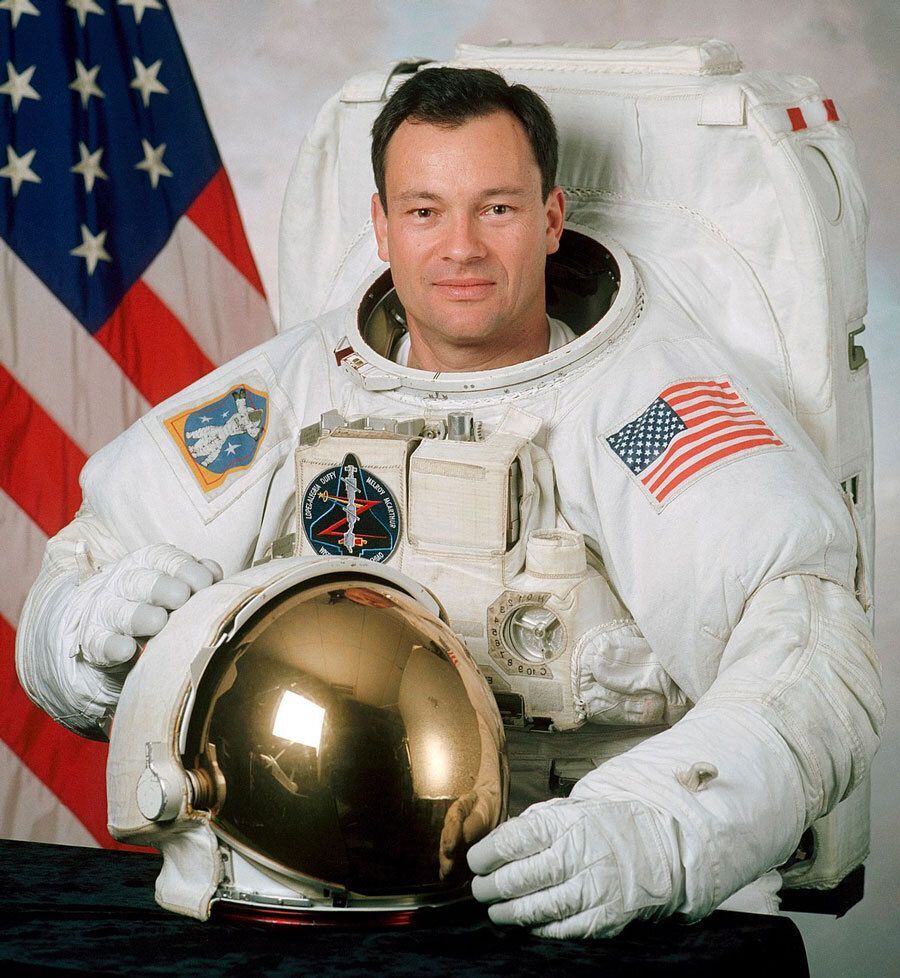 [ Scroll down for English translation ]
Prepárese para dejarse inspirar por el increíble relato de Michael E. López-Alegría. Nació en Madrid (España) el 30 de mayo de 1958 y emigró a Estados Unidos cuando era niño. Creció en Mission Viejo, California, y asistió al instituto Mission Viejo High School antes de emprender sus sueños en la Academia Naval de Estados Unidos. Tras graduarse en ingeniería de sistemas, López-Alegría obtuvo un posgrado en ingeniería aeronáutica en la Escuela Naval de Posgrado de Estados Unidos en 1988, e incluso completó el Programa de la Escuela Kennedy de Gobierno de la Universidad de Harvard para altos ejecutivos en seguridad nacional e internacional. ¿Sabía también que domina no sólo uno, ni dos, sino tres idiomas? Así es, López-Alegría habla español, francés y ruso, además de inglés. Es una persona impresionante.
La notable carrera de López-Alegría abarca más de 40 años de experiencia en la aviación y el espacio. Ha desempeñado diversos cargos en la Marina de los Estados Unidos y la NASA, como aviador naval, piloto de pruebas de ingeniería y director de programas. Con más de 5.700 horas de pilotaje en 30 tipos diferentes de aeronaves, la experiencia de López-Alegría es innegable. Su dedicación a su oficio es una inspiración para cualquiera que quiera marcar la diferencia en el mundo de la aviación y la exploración espacial.
En agosto de 1992, se embarcó en un fascinante viaje al incorporarse a la famosa agencia de exploración espacial, la NASA. Tras un año de riguroso entrenamiento en el Centro Espacial Johnson, logró por fin su sueño de convertirse en astronauta. Su experiencia fue muy valorada, ya que actuó como enlace técnico entre la Oficina de Astronautas y diversos componentes del proyecto del transbordador espacial. Posteriormente se trasladó al Centro Espacial Kennedy, donde proporcionó una asesoría de gran valor en cuestiones de procesamiento orbital y apoyo al despegue y aterrizaje. Una trayectoria profesional realmente inspiradora.
¿Alguna vez se ha preguntado cómo es ser astronauta? Pues Michael López-Alegría lo sabe de primera mano. Participó en su primera misión espacial en 1985 y desde entonces ha pasado más de 257 días en el espacio y ha realizado diez caminatas espaciales, con un total de más de 67 horas de actividad extravehicular (EVA). Es impresionante. Tras retirarse de la Marina y de la NASA, López-Alegría ingresó en el Salón de la Fama de los Astronautas de Estados Unidos en 2021. Es increíble pensar en todo el trabajo duro y la dedicación que se necesita para convertirse en astronauta y las increíbles experiencias que viven mientras están en el espacio.
Además de sus logros anteriores, López-Alegría sigue realizando importantes contribuciones al campo de la exploración espacial. En la actualidad trabaja para Axiom Space, donde ocupa el prestigioso puesto de Comandante de la Misión Axiom 1. Esta innovadora misión es la primera vez que se envía una tripulación totalmente privada a la Estación Espacial Internacional. En su puesto, López-Alegría no sólo supervisa los aspectos operativos de la misión, sino que también participa activamente en los esfuerzos de desarrollo empresarial.
---
Get ready to be inspired by Michael E. López-Alegría's incredible journey! He was born in Madrid, Spain on May 30, 1958, and later immigrated to the United States as a child. Growing up in Mission Viejo, California, he attended Mission Viejo High School before pursuing his dreams at the U.S. Naval Academy. With a Bachelor of Science in systems engineering under his belt, López-Alegría went on to earn a Master of Science in aeronautical engineering from the U.S. Naval Postgraduate School in 1988, and even completed Harvard University's Kennedy School of Government Program for Senior Executives in National and International Security. Did you also know that he is proficient in not just one, not two, but three languages? That's right, López-Alegría speaks Spanish, French, and Russian in addition to English. What an impressive individual!
López-Alegría's remarkable career spans over 40 years with a wealth of experience in aviation and space. He has served in various capacities for both the U.S. Navy and NASA, including Naval Aviator, engineering test pilot, and program manager. With over 5,700 pilot hours under his belt across 30 different aircraft types, López-Alegría's expertise is undeniable. His dedication to his craft is an inspiration to anyone looking to make a difference in the world of aviation and space exploration.
In August of 1992, he embarked on an exciting journey, joining the renowned space exploration agency, NASA. After a year of rigorous training at Johnson Space Center, he finally achieved his dream of becoming an astronaut. His expertise was highly valued as he served as a technical liaison between the Astronaut Office and various space shuttle project components. He then moved on to Kennedy Space Center, where he provided invaluable guidance on orbital processing issues and launch and landing support. Truly an inspiring career path!
Have you ever wondered what it's like to be an astronaut? Well, Michael López-Alegría knows firsthand. He joined his first space mission in 1985 and has since spent over 257 days in space and conducted ten spacewalks totaling more than 67 hours of Extravehicular activity (EVA). That's pretty impressive! After retiring from the Navy and NASA, López-Alegría was inducted into the U.S. Astronaut Hall of Fame in 2021. It's amazing to think about all the hard work and dedication it takes to become an astronaut and the incredible experiences they have while in space.
In addition to his previous accomplishments, López-Alegría continues to make significant contributions to the field of space exploration. Currently employed by Axiom Space, he holds the prestigious position of Commander of Axiom Mission 1. This groundbreaking mission marks the first time a fully private crew is being sent to the International Space Station. In his role, López-Alegría not only oversees the operational aspects of the mission but also actively engages in business development efforts.