Air Power at Sea
Virtual Museum | Galleries & Exhibits Home | World War Two

A New Type of Warfare:  Air Power at Sea
Early on a quiet Sunday morning in 1941, Japanese carrier launched aircraft attacked the U.S. fleet at Pearl Harbor, Hawaii. It was history's biggest surprise attack, and it began an entirely new kind of war – one in which naval battles would be fought from the air instead of on the surface of the sea. The Japanese had struck the first blow and they seemed unstoppable. The Americans learned quickly and in May, 1942, at the Battle of the Coral Sea, American flyers operating from carriers halted Japan's march of conquest. It was the first naval battle ever in which the opposing ships never saw each other.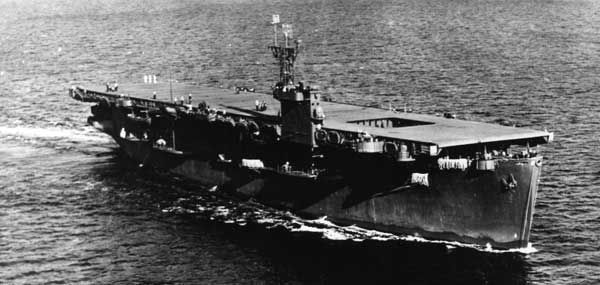 By 1945 there was no longer any doubt that airpower was the most powerful, longest-range weapon ever used at sea. It was the American carrier fleets and their aircraft that turned the tide of war against Japan and made the great Pacific island invasions possible.
When a fleet including a carrier moves – it is bringing its airstrip, refueling and ordnance facilities with it. The aircraft carrier was designed for this purpose.