Fairchild-Republic T-46 Flight Demonstrator
Galleries & Exhibits Home > T-46 Flight Demonstrator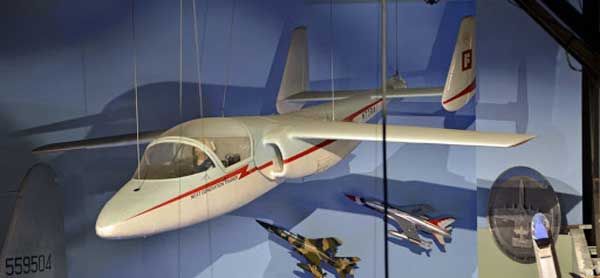 Fairchild-Republic T-46 Flight Demonstrator
Bohemia, 1981
In 1982, the Fairchild-Republic Corporation of Farmingdale, won the USAF competition to build the Next Generation Trainer for primary flight instruction. Designated the T-46, it was an H-tail, high-wing, design with side-by-side seating for two, twin engines and a pressurized cockpit. Designed with simplicity, stability and low operating costs in mind, it was expected that the Air Force would purchase 650 of the trainers through 1993 and that they would serve well into the 21st century. Additionally, Republic expected to sell an attack version of the aircraft overseas.
The T-46 first flew in October, 1985 and all flight tests were successful. However, due to budget cuts, the Air Force terminated the T-46 program in 1986 after only four aircraft had been built. As it was their only aircraft contract, the Republic Aviation Corporation was forced to close after over 50 years of continuously producing military aircraft.
This aircraft is a 62% scale fiberglass flight demonstrator designed by Republic, built by Ames Industries in Bohemia, and flown for over 20 hours at Mojave, California, by Dick Rutan in 1981. It was used to collect information for the full scale T-46 in the areas of flight handling qualities, control surfaces and spin recovery. It was also produced in an effort to secure the T-46 contract for Republic.
Specifications:
Wingspan: 21' 10"
Length: 18' 4"
Top Speed: 260 mph
Engine: Two 220 lb. thrust Garrett Microturbo TRS-18
Weight: 842 lbs
Donor: Fairchild Republic Corporation