Major Marisol A. Chalas
Aviator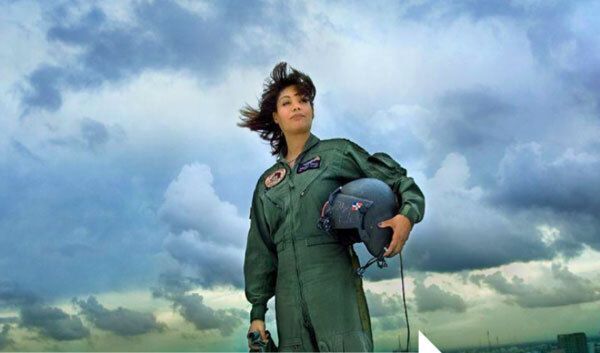 [ Scroll down for English translation ]
La Mayor Marisol Chalas es la primera latina piloto de helicóptero Black Hawk de la Guardia Nacional.
La mayor Marisol A. Chalas nació en Baní, República Dominicana, y se trasladó a los Estados Unidos con su familia a Massachusetts a la edad de nueve años.  La MAJ Chalas comenzó su carrera militar como soldado alistado en el Ejército en julio de 1990.  En 2001, la Mayor Chalas recibió su nombramiento como subteniente de la rama de Aviación en la Escuela de Aspirantes a Oficial del Instituto Militar de Georgia. La mayor Chalas ha servido en varias posiciones de liderazgo, desde asesora de Lean Six Sigma, Capitán de Batalla y Líder de Pelotón durante la Operación Libertad Iraquí, Oficial de Enlace de Aviación para–New Horizons-CJTF Barahona, Oficial de Preparación de Aviación de FORSCOM G-4, y dos rotaciones como Comandante de Compañía.  La Mayor Chalas sirvió como Integradora de la Fuerza de Aviación para la Dirección de Aviación del USARC G-3/5/7 y más recientemente como Oficial de Intercambio de la Reserva del Ejército de los Estados Unidos sirviendo con las Fuerzas Canadienses en Kingston, Ontario, Canadá.  
La comandante Chalas cuenta con una amplia trayectoria profesional en el ámbito empresarial y con una gran experiencia internacional.  La comandante Chalas trabajó para GE durante once años, donde ocupó varios puestos de alta gerencia.  La mayoría de sus misiones fueron internacionales, incluyendo funciones en Asia, Latinoamérica y Europa.  La comandante Chalas se graduó en el Programa de Liderazgo Técnico Nuclear de GE.  La comandante Chalas también trabajó para Booz Allen Hamilton, donde, como consultora, escuchó a los clientes, encontró soluciones a sus problemas más urgentes y formuló recomendaciones para fortalecer sus operaciones.  
Sus premios y condecoraciones incluyen la Medalla al Servicio Meritorio (3 Racimos de Hoja de Roble de Bronce), la Medalla Aérea del Ejército, la Medalla de Encomio del Ejército (Racimo de Hoja de Roble de Bronce), la Medalla de Logro del Ejército (3 Racimos de Hoja de Roble de Bronce) la Medalla de Logro de los Componentes de la Reserva del Ejército (4 Racimos de Hoja de Roble de Bronce), Medalla al Servicio de la Defensa Nacional (Estrella de Bronce al Servicio), Medalla Expedicionaria de la Guerra Mundial contra el Terrorismo, Medalla al Servicio de la Guerra Mundial contra el Terrorismo, Medalla de la Reserva de las Fuerzas Armadas (Reloj de Arena de Plata/Dispositivo M), Medalla al Voluntario Militar Destacado, Premio FORSCOM Ironwoman, Trofeo GEN George J. Hearn Trophy y Senior Aviator Badge.  Ha recibido el premio académico del club de la hélice del puerto de Boston. 
La comandante Chalas es miembro del Consejo de Administración de la Academia Marítima de Massachusetts.  En su tiempo libre, la comandante Chalas es un miembro activo de la comunidad y disfruta jugando al golf, viajando, haciendo excursiones y manteniéndose en forma. 
La mayor Chalas está sirviendo actualmente como Oficial de Operaciones del Batallón del 1-158º Regimiento de Aviación en Conroe, TX. 
---
Maj. Marisol Chalas is the first Latina National Guard Black Hawk helicopter pilot.
Major Marisol A. Chalas was born in Bani, Dominican Republic, and moved to the United States with her family to Massachusetts at the age of nine. MAJ Chalas began her military career as an enlisted soldier in the Army in July 1990. In 2001 MAJ Chalas received her commission as Second Lieutenant in the Aviation branch from the Georgia Military Institute Officer Candidate School. 
MAJ Chalas has served in various leadership positions, ranging from Lean Six Sigma advisor, Battle Captain and Platoon Leader during Operation Iraqi Freedom, Aviation Liaison officer for New Horizons-CJTF Barahona, FORSCOM G-4 Aviation Readiness Officer, and two rotations as Company Commander.  MAJ Chalas served as the Aviation Force Integrator for USARC G-3/5/7 Aviation Directorate and most recently as the U.S. Army Reserve Exchange Officer serving with the Canadian Forces in Kingston, Ontario, Canada. 
MAJ Chalas' military education includes Aviation Officer Basic Course, UH-60 Aviator Qualification Course, Aviation Captain's Career Course; Intermediate Level Education (ILE) Common Core, the Army Force Management Course and the Advance Operations Course (AOC). She recently completed the Strategic Fellows Program at The Institute of World Politics in Washington, DC. 
Major Chalas received her Bachelor of Science degree in Marine Engineering from Massachusetts Maritime Academy and a Master of Business Administration from J. Mack Robinson School of Business, Georgia State University. MAJ Chalas is a certified Lean and Six Sigma Black Belt and a member of the National Scholars Honor Society.   
Major Chalas has an extensive corporate career record with vast international experience. MAJ Chalas worked for GE for eleven years, where she held a number of senior management roles. Most of her assignments were international, including roles in Asia, Latin America, and Europe. MAJ Chalas is a graduate of GE's Nuclear Technical Leadership Program. MAJ Chalas also worked for Booz Allen Hamilton, where, as a consultant, she listened to customers, found solutions to their most pressing problems, and made recommendations that would strengthen their operations.  
Her awards and decorations include Meritorious Service Medal (3 Bronze Oak Leaf Clusters), Army Air Medal, Army Commendation Medal (Bronze Oak Leaf Cluster), Army Achievement Medal (3 Bronze Oak Leaf Clusters) Army Reserve Components Achievement Medal (4 Bronze Oak Leaf Clusters), National Defense Service Medal (Bronze Service Star), Global War on Terrorism Expeditionary Medal, Global War on Terrorism Service Medal, Armed Forces Reserve Medal (Silver Hourglass/M Device), Military Outstanding Volunteer Medal, FORSCOM Ironwoman Award, GEN George J. Hearn Trophy and Senior Aviator Badge. She is a recipient of the Propeller Club Port of Boston Academic Award. 
MAJ Chalas is a member of the Board of Trustees of Massachusetts Maritime Academy. In her spare time, MAJ Chalas is an active member in the community and enjoys playing golf, traveling, hiking and staying fit.    
MAJ Chalas is currently serving as the Battalion Operations Officer for 1-158th Aviation Regiment in Conroe, TX.