Virtual Museum Tours for Senior Groups
Live, interactive, virtual experiences for seniors offer stimulation and entertainment and keep seniors engaged while social distancing. Seniors may often have ties to the people, places, or events on exhibit.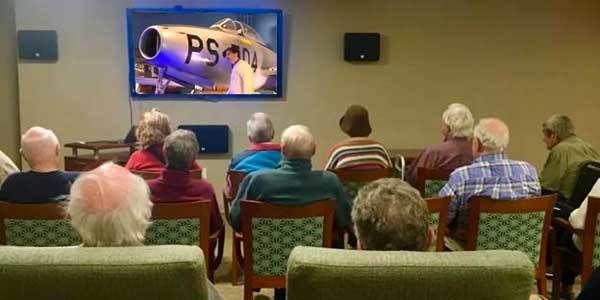 Virtual Tours for Seniors are:
Ideal for history lovers, Veterans, Aerospace and other retirees.
Great way to acknowledge and celebrate historical anniversaries.
Stories shared are of determination and inspiration; breaking boundaries and barriers.
Museum experiences encourage problem-solving, boost creativity, strengthen critical thinking, support love of learning, and encourage bonding.
Virtual guests feel inspired and reenergized after virtual visits.
Great activity for assisted living communities and retirement homes, elderly & senior citizen groups

The Cradle of Aviation Museum and Education Center is home to over 75 planes and spacecraft representing over 100 years of aviation history. The museum is the celebration of the evolution and diversity of aircraft and spacecraft and their influence on society. The goal of each exhibit is to educate and entertain and bring the thrill of aviation to everyone. Each technique of communication is used to catch visitors' interest and heighten their understanding.  
Virtual Guided Tour
Highlights of Air and Space History on Long Island, the "Cradle of Aviation"  
From ballooning to the Moon…an evolution of aviation, all in under an hour. This museum educator-led program will take your senior group through the museum's collections focusing upon major events and aircraft in aviation history. 
In less than 80 years, aviation has grown, boomed, and declined on Long Island, New York, the "Cradle of Aviation". Long Island has helped transform aviation from a dangerous sport to a viable means of commercial transportation. It has also produced a large portion of the nation's aerial arsenal in times of war. The many record-setting and historic flights that transpired on Long Island, and the many aviation companies that developed on Long Island made aviation the integral part of our world that it is today. This is a brief tour of why Long Island is called the Cradle of Aviation, and its contribution to the history of aviation and spaceflight. 
Highlights include:
Charles Lindbergh's first plane, a WW1 Jenny
Extensive WWII exhibit for 75th anniversary of the end of the war 
An actual Grumman Apollo Lunar Module
The Golden Age of Aviation featuring seaplanes and a sister ship to the Spirit of St. Louis
"What an amazing day trip to the Cradle of Aviation Museum! Our residents had an educational experience and the privilege of having one of the resident's sons who is a retired fighter pilot give them an in-depth history." - Oyster Bay Manor Senior Campus
Virtual Field Trips Pricing
Virtual Field Trips for Seniors begin at $300 for a maximum of 60 seniors. Customized experiences and multi-program discounts are available. (Programs must take place on the same day to be eligible.)
How to Book
To book your date, please call Reservations at 516-572-4066, Monday through Friday from 10:00 am-3:30 pm. For more information, please see our FAQs below and/or contact the Education Department via the contact form at the bottom of this page.
"Long Islander's involvement in aviation and spaceflight is a story of struggle and risk, failure and success, by people who tried to reach as far as their imaginations and abilities would take them." 
FAQ - Frequently Asked Questions
How many visitors can be logged-in to an event?
We ask a group to be at least 10 seniors and no more than 60 seniors per session. Seniors are welcome to use their designated email to log-on, or if your community/group is meeting in your community room to have the whole group join under one log-in.
How long is a virtual museum tour?
Our Guided Tour is about 60 minutes. Virtual museum tours will begin no later than 10 minutes after the designated start time.
Can I book multiple tours on the same day?
Yes, absolutely! We'd be thrilled to provide more than one tour! There's even a same-day, multiple tour booking discount available.
What platform is used for the tour?
The Museum has a Zoom account available for bookings. Each Zoom meeting is set-up with password protection to prevent outsiders from joining the tour. Trip facilitators are sent the link and password 24 hours before the tour to share with their group.
We also understand many groups might prefer to use their own virtual space for tours. We're happy to "jump" into your prescheduled and pre-set space through Google Meet, Teams, etc. Facilitators selecting this format would share the group nickname or link with our assigned educator (you will receive a specific email address upon booking). If you are using your own platform, we ask you kindly coordinate a tech check with the educator a day or two before your tour to ensure there are no connectivity or log-in issues.
How will seniors be able to interact with the educator during the tour?
We LOVE questions and feedback from our visiting guests. Seniors are welcome to use the chat function (if it is permissible by their facilitator) for questions, or use "raise hand" or "clap" icons to denote a question. We do ask facilitators to unmute themselves to select seniors for engaging with the museum educator.
Do we need a webcam to participate?
No, you do not need video to participate. The Cradle educators will be live, with video and voice for the duration of the event, but it is not required for the attendees.
---
Contact Us to Reserve Your Date!
To book your private tour, please call Reservations at 516-572-4066, Monday through Friday from 10:00 am to 3:30 pm EST.
Or, for more information, use the contact form below to reach the Reservations Department.