Lee Ya-Ching
Actress, Aviatrix, Philanthropist
By Julia Lauria-Blum (as first appeared in Metropolitan Airport News July 5, 2019)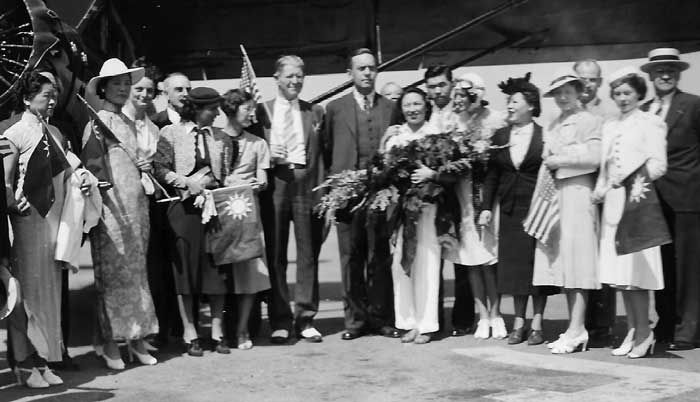 In 1926, 14-year-old Lee Ya-Ching walked onto a movie set where a director, taken by her beauty, offered her the opportunity to act in silent films. Thus, began Lee's career as a movie actress. Taking the stage name Li Dandan, she starred in eight films, becoming one of China's most popular film actresses during her teen years. In 1928 she was offered the lead role of Hua Mulan in "Mulan Joins the Army". In this film adaptation of the Hua Mulan legend, Lee plays a young woman protagonist who lives with her elderly father during the Northern Wei Dynasty. When China is invaded by evil nomads, Mulan fears that her father will be called into service by the emperor and she disguises herself as a man, wearing her father's old armor so that she may take his place in the army. In the process, as legend has it, Hua Mulan becomes one of China's greatest heroines.
As an example of 'Life Imitates Art', one can easily contend that such is the case with Lee Ya-Ching's life story and legacy. Lee Ya-Ching was born on April 16, 1912, in Guandong, China. Losing her mother to tuberculosis as a child, she was raised by her grandmother and father, who under his guidance learned many life skills, including martial arts, horseback riding, and archery. Lee received her primary education in English schools in Shanghai and Hong Kong and in 1928 at the age of 16 she left her film career to attend school in England. 
At the age of 17 in 1929, Lee traveled to Geneva, Switzerland and there she experienced her first ride in an airplane. Enamored by the flight, Lee vowed to become a pilot. Years after Japan seized control of Manchuria in 1931, Lee recalled a fairy tale told to her as a little girl by her grandmother, where a kind lady flew through the clouds helping the needy and unfortunate. The tale left a strong impression on her and as she began to see a continued pattern of aggression by the Japanese in China, she decided to do her part for her homeland and began her studies of aviation, knowing that someday she would be able to use her knowledge of it to help serve her country. 
In 1929 Lee enrolled at the Ecole Aero Club de Suisse in Geneva and in 1933 received her pilot's license, becoming the first woman to do so at the school. In 1935, she moved to Oakland, California for advanced training at the Boeing School of Aeronautics, learning meteorology, navigation, and mechanics. Upon completion, she received her license from the school. That same year Lee went up with an instructor for an aerobatics flight. As the open-cockpit airplane started a barrel roll, her seat belt unlatched, and Lee fell out of her seat. Recovering, she pulled the ripcord and parachuted safely into the icy San Francisco Bay beneath her. This subsequently led to her membership in the Caterpillar Club, an exclusive club whose members had once saved their own lives by making an emergency parachute jump from an airplane.
In autumn of 1935, with her U.S. private pilot's license and advanced certificate in hand, Lee returned to China, anxious to use her fame to promote civil aviation. After campaigning for a Chinese pilot's license, Lee became the first woman to obtain a license from the Chinese government in 1936. She was then assigned the use of a government plane to complete an air survey of 30,000 miles for the Chinese Army. With the need to train new pilots, Lee opened a civilian flying school in Shanghai.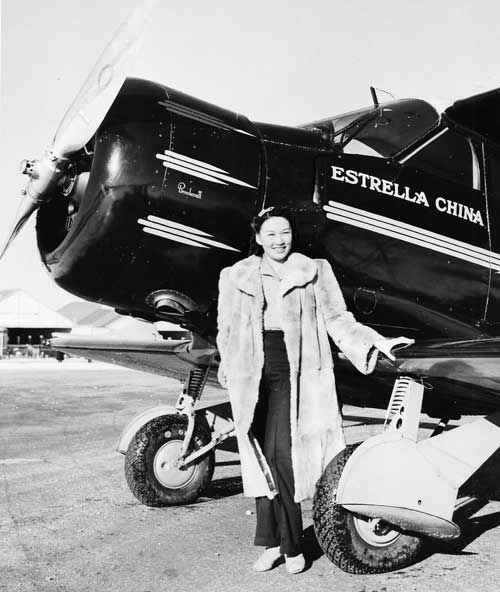 After the Japanese invasion of China in 1937, the school was shut down and she volunteered to fly for her country but was refused because of her gender. Grounded from flying Lee was determined to serve in another capacity and established refugee camps and a hospital for wounded soldiers in Shanghai. After the Japanese put a price on her head, Lee fled the city for Hong Kong, as Shanghai fell to the Japanese army. Finally given the chance to fly for China, Ya-Ching obtained her commercial license and flew for the Red Cross transporting supplies from Hong Kong to Canton. 
As the need for aid and supplies escalated in China, Lee embarked on a Goodwill Tour of the United States and Canada in 1938. Putting up her jewelry as collateral, she obtained the loan of a Stinson Reliant from the Beech Aircraft Company which was named "Spirit of New China". The Goodwill Tour was overwhelmingly successful and with the support of socialites, film stars, relief organizations & fellow aviators, including Teresa James, Louis Thaden, and Helen Richey, Lee Ya-Ching visited some 40 cities in three months, receiving a grand reception at each of her stops. Her popularity as a flier became so great that she appeared on a bubble gum card and as the heroine in a True Aviation comic book story. Captivated by her style and looks, Paramount Pictures convinced her to revive her acting career in a supporting role as the "Chinese Aviatrix" in Disputed Passage, starring Dorothy Lamour. Alternating between filming on days that she wasn't needed on the set, Lee continued her Goodwill Tour and raised thousands of dollars for Chinese refugees. When the war prevented her return to China, from 1939 to the end of World War II, Lee extended her tour to the Caribbean, Central and South America and aided in raising money for Relief Wings, founded by pioneering pilot, Ruth Nichols, its slogan was "Humanitarian Service by Air".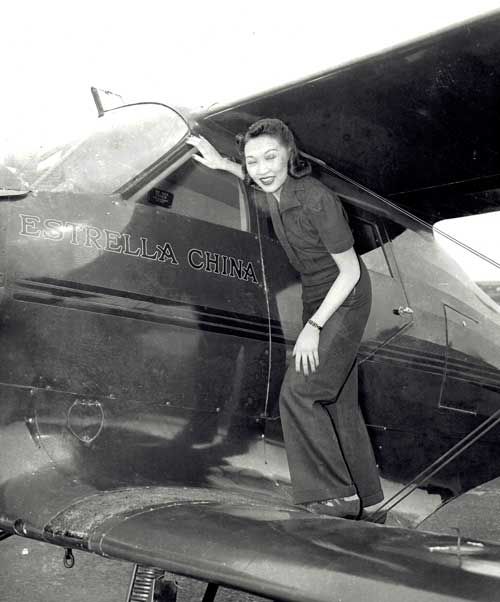 On page two of Roosevelt Field News, dated February 20, 1940, it was reported, "Miss Lee Ya-Ching arrived here from Wichita, Kansas in a Beechcraft powered by a 450 hp Wright engine which has been named "Estrella China". Miss Ya-Ching will leave for South America on a lecture tour to obtain funds for Chinese refugees. The tour is being sponsored by the American Bureau for Medical Aid to China"
 With the end of the war, Lee Ya-Ching returned to China in 1946, later retiring from flying. Living in Hong Kong for a number of years, she eventually returned to California where she permanently settled in the San Francisco Bay area until her death on January 28, 1998, at the age of 86. 
 In an account from the book, Sisters of Heaven, author, Patti Gully related that in the 1970s, while touring the California countryside, Lee "spotted a crop-duster sitting in a farmer's field and asked permission to take it aloft. She proceeded to put the old plane through its paces, performing a series of spins and complicated acrobatic maneuvers until its wires were screaming and its wings were shaking. And then, having taken the machine to the outer limits of its endurance, she calmly landed and politely thanked the astonished owner for their indulgence." 
 Lee Ya-Ching quietly continued on her way, and from there, her legend continues.