July 1919 - Roosevelt Field, Mineola, NY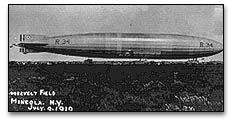 Not to be outdone by the U.S. Navy, the British Navy had been readying a dirigible for the Atlantic flight. The R-34 was a giant - measuring 665 feet long. She was captained by Major G.H. Scott of the RAF and it was hoped that she would be able to fly non-stop round trip to New York.
On July 2, 1919, the R-34 took off from East Fortune, Scotland. On board she carried the first transatlantic aerial stowaway, William Ballantyne, who was not discovered until well at sea. The dirigible battled head winds all the way across the Ocean. Once it hit Newfoundland, the ship encountered a series of violent storms that threatened to push her back to sea. Finally, 108 hours and 12 minutes after take-off, the giant dirigible arrived at Roosevelt Field, Mineola, New York.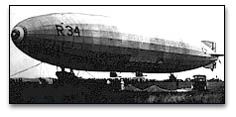 The R-34 took off again just before midnight on July 9th and gave New Yorkers a thrill by circling Times Square before heading back to England. It only took the R-34 75 hours and 3 minutes to return safely to Pulham, England and become the first aircraft of any kind to complete a two-way crossing of the Atlantic Ocean.