School Group Field Trips Your Students Will Never Forget!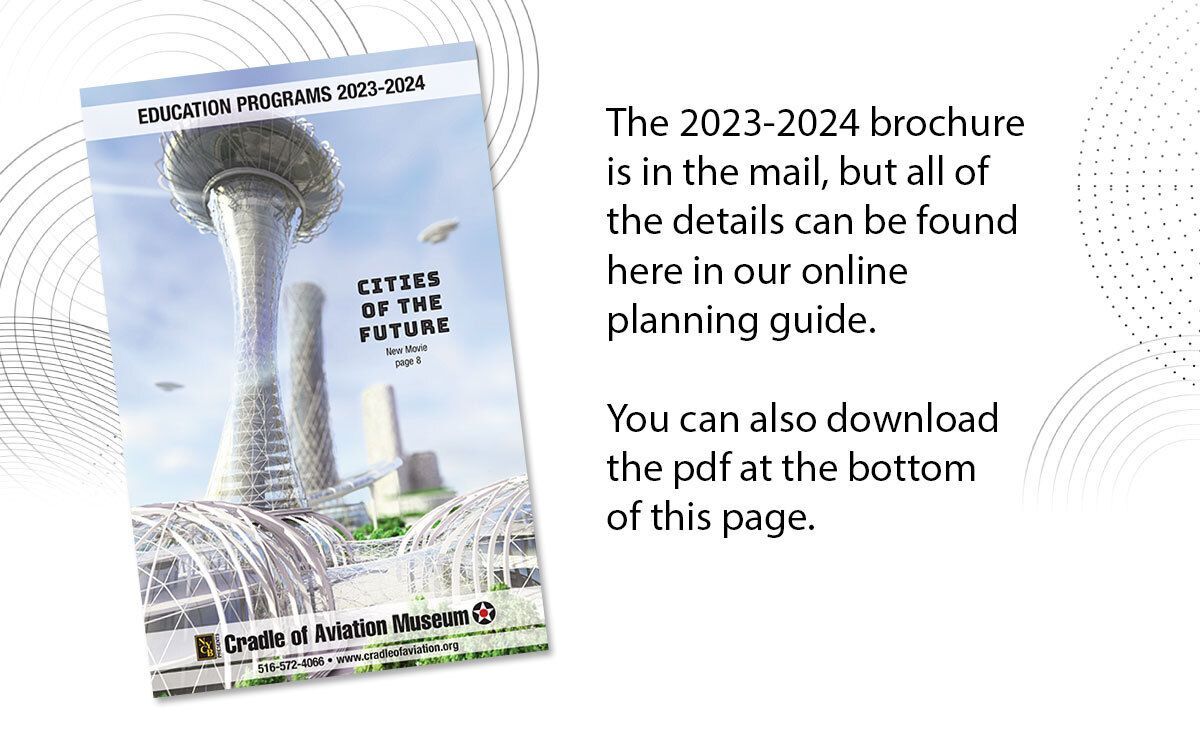 ---
Welcome | Programs | Planning Guide | Reservation Form
Virtual Field Trips are also still available!
---
Dear Educator:
In the 2023-2024 school year, the Museum is ready for exciting field trip experiences designed to instill a sense of wonder around Long Island's role in history and the sciences, the future of air and space, and to complement the learning offered in your classrooms.
Over the course of the year, the Museum will be celebrating our environment. From our newest interactive classes, Secret Life of Ocean Currents and Exploring the Web of Life to our new film Ocean Odyssey taking audience members on a journey to the East Australian current, our team will emphasize how our "blue dot" in space is vibrant and how keeping our Earth healthy is essential to all of its inhabitants. 
In addition to our regular operating hours, the Museum will continue to open on select Mondays just for you, your students, your school, or your district (group minimum applies). 
We're also moving eastward! The Museum, in partnership with the Town of Islip and Long Island MacArthur Airport, is excited and proud to be bringing programming right to the heart of aviation by teaching content at the Airport. These new learning opportunities will afford students the chance to participate in a STEM workshop, tour portions of the Airport, and even hear from an industry professional bringing our programs from a learning experience to a real-world application all in one session! 
To smooth the process of planning your visit, we have provided an online Field Trip Planning Guide and associated Reservation Form for your use. Or, if you'd prefer to speak with a team member, you can reach our Reservations team at 516-572-4066, Monday through Friday from 10:00 am to 4:00 pm. Trips and classes to the Museum remain BOCES fundable.
We are full of hope for an exciting new year and we are thankful for your patronage.
Sincerely,
Catherine Gonzalez
Education Director
---
Thanks to a New York State Council on the Arts grant, you can now download our 40 page educator guide containing both pre and post visit activities. 
---
Welcome | Programs | Planning Guide | Reservation Form
Virtual Field Trips are also still available!
---