Scout Sleepovers
A Scout Night Out at the Cradle of Aviation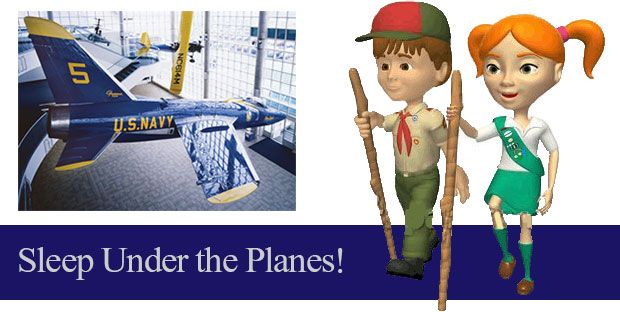 Scout Sleepovers
Overnight programs include a scavenger hunt, activities, a Planetarium Show or Dome Theater Film, time in the Museum Store, light breakfast, and a Cradle of Aviation Scout Patch. 
Sample Itinerary
Friday 
7:30-8:00 PM Check-in; Galleries and Museum Store open to all guests
8:00-10:00 PM Opening Activities, Scavenger Hunt, Movie/Planetarium Show
9:00 PM Museum Store Closes 
9:30-10:15 PM  Collect your patch 
10:15 PM Overnight Safety Talk/Sleeping Arrangements 
11:00 PM Lights Out 

Saturday
6:30 AM  Lights On 
6:30-7:30 AM Light Breakfast 
8:00 AM Check-out
Upcoming Dates
January 6
January 13
February 3 
February 10
March 3
March 24
Minimums & Pricing
A minimum of 50 people is required to secure a night. One adult per four children group minimum.
Our current overnight rate is $50.00 per adult and $75 per child. 
Please call Reservations: 516-572-4066 (Mon-Fri, 10-4) or use the contact form below.
---