Our immersive planetarium and full-dome theater is one of the largest and most powerful virtual reality experiences in the world!
Long Island Retro Gaming Expo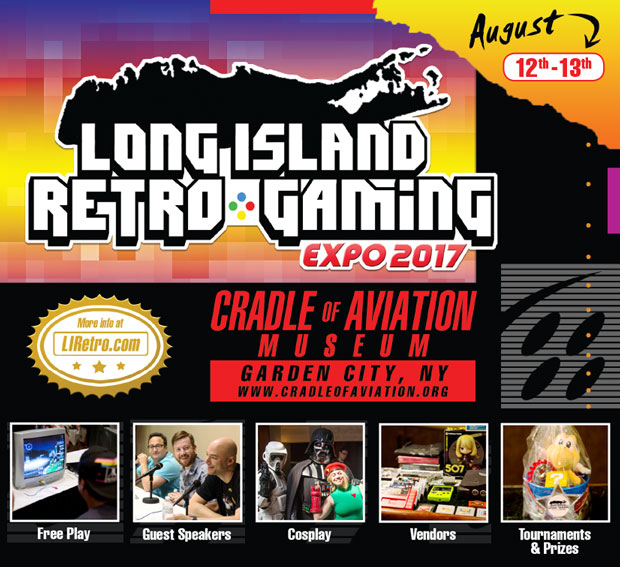 The Long Island Retro Gaming Expo comes to the Cradle of Aviation Museum!
The Long Island Retro Gaming Expo returns for its 3rd consecutive year for lovers of retro games and classic gaming. This August 12 and 13, get ready to play all your retro favorites, browse retro gaming vendors, participate in panel discussions, bring your best cosplay, enter tournaments and win prizes!
Saturday, August 12, 10:00 am-10:00 pm
Sunday, August 13, 10:00 am-5:00 pm
Advance Online Tickets
Single Day: $20/adult & $10/child (2-12)
Two-Day Weekend Pass: $30/adult & $15/child (2-12)
Advance online tickets shut-off on Friday at midnight, Aug 11!
Tickets at the Door
Single Day: $25/adult & $15/child (2-12)
Two-Day Passes Not Available at the Door!
---
---
Newly expanded to two days, the Expo will feature local vendors who are passionate about retro games from the 70s, 80s, 90s and today. Vendors and retro gaming stores from all over the northeast will be in attendance as well as game inspired artists, cosplayers and various others catering to the gamer community.
"It's fun to come out, sit next to people, yell, hoot and holler, and be a maniac." Says expo co-founder Joel Albino, "It just proves that people want to do something – not everything is about online gaming."
Friendly competition is a huge part of retro gaming, so naturally there will be a wide selection of video game tournaments complete with prizes. Compete in old favorites like Super Smash Bros. Melee, Mario Kart, and Street Fighter as well as the ultimate test of a gamers mettle, RETROTHON – a series of mini tournaments!
Don't fancy the heat of competition? The freeplay section will be going full blast serving up the gaming gems you remember. Retro PC gaming also makes a triumphant return. Newly announced for 2017 is the console LAN party – play on networked Xboxes and Gamecubes against others in a fun and relaxed environment.
Bring your cosplay A game! The Expo's cosplay contest, hosted by local actress/singer/model Lauren Clover, is sure to bring Long Island's most excellent cosplayers out to show their stuff.
2017 also sees even more panels and presenters from the retro gaming community. Come see many of your favorite YouTube and podcast gaming personalities as well as some special surprise guests.
Expo hours are 10:00am-10:00pm on Saturday, August 12 and 10:00am-5:00pm on Sunday August 13. Both one and two day tickets are available for purchase. Advance online ticket prices are $20/adult and $10/child (2-12) for single-day tickets or $30/adult and $15/child for two-day passes. Online advance tickets will shut off at midnight Friday and tickets at the door will be $25/adult and $15/child. No two-day passes available at the door. Admission includes full access to the expo and includes access to the Cradle of Aviation Museum galleries as well as their retro video game exhibit From the Arcade to the Living Room that features over 90 classic consoles and arcade cabinets.
About the Long Island Retro Gaming Expo
The Long Island Retro Gaming Expo is an annual convention featuring local vendors who are passionate about retro games from the 70s, 80s, 90s and today and dedicated to serving the retro gaming community on Long Island and beyond.
To find out more and stay up to date on all the event details visit www.liretro.com!