Spring Break 2021
Spring into Space and more at the Cradle this School Break!
Scroll down for all the happenings!

---
Family Activities, Planetarium Shows, Space Exhibits, Retro Arcade Exhibit, and a Spring Model Train Show!
Spring into Space School Break Activities
Spring into Space this School Break as we explore the question, "Is anybody out there?" with a Family Activity, Astronomy Scavenger Hunt, and a new Night Sky Planetarium Show

Our immersive full-dome planetarium is one of the largest and most powerful virtual reality experiences in the world! Separate admission required. Scroll down for the daily schedule and link to show descriptions.
---
The Arcade Age Exhibit
Back by popular demand!

Learn the History, Play the Games - Over 50 playable classic arcade games.
The Arcade Age explores the short history of video arcade games through exhibits and gameplay, just as they were intended to be experienced - in an arcade!
---
Back to the Future 35th Anniversary Celebration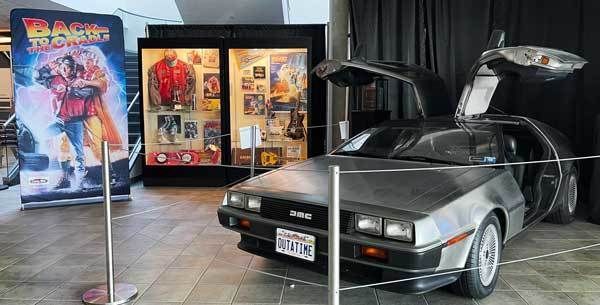 This is your last chance to see our DeLorean and tons of Back to the Future memorabilia - the exhibit goes 'back to the future' on April 4 - don't miss it! Free with Museum Admission.
---
The Long Island Garden Railway Society
The Long Island Garden Railway Society will be here for the Spring Break (March 25 through April 4) with their first-ever Spring Model Train Show at the Cradle! Free with Museum Admission.
---
Daily Schedule