The most interesting event calendar around!
SLIME - Students of Long Island Maker Expo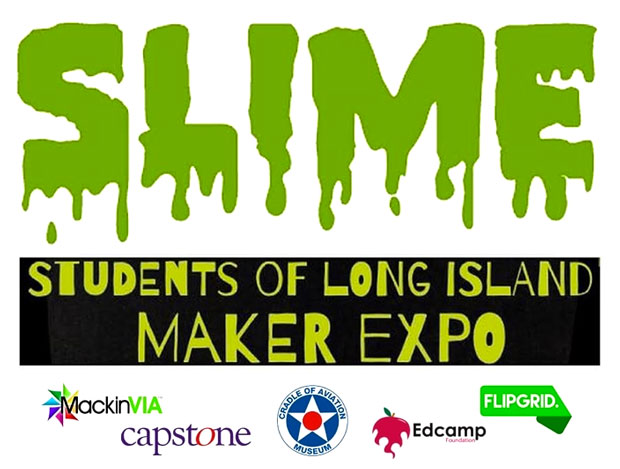 Long Island LEADS presents
SLIME - Students of Long Island Maker Expo
From recyclables to robotics, celebrating 21st century learning for all Long Island students.
WHAT'S SLIME?
SLIME is an interactive day of making for family and educators from all across Long Island. Hands-on learning activities from recyclables to robotics promote critical thinking and problem solving skills necessary for our children to participate in the global community. We anticipate over 100 activities, demonstrations, presentations and speakers.
Ticketing information will be available soon.
Hands-on learning, STEAM education, and the maker movement are not only beneficial for the mind, but also for the soul. This year our children will be able to make a difference by creating a public service announcement for their favorite charity.
"Make a Difference" Charity Pitch Fest Rules
* All grade levels are eligible (k - 12).
* Video pitches must be submitted by April 14.
* Open voting takes place from April 14 to April 28th (Pay It Forward Day).
* Students who create the top-voted videos will be required to attend SLIME - Students of Long Island Maker Expo on May 20th at the Cradle of Aviation to pitch their charities live.
* The winner will receive a donation to the charity in his or her name.
* Enter online at http://www.slimemakerexpo.com/make-a-difference-charity-pitch-fest.html
SLIME is brought to you by Long Island LEADS, a 501(c)(3) not-for-profit corporation.
About Long Island LEADS
Long Island LEADS (Learning, Educating, Advocating, Developing and Supporting the Maker Movement and STEAM Education) is a group of makers, educators, administrators, librarians, museum directors, parents, students, community members, non-profit organizations and companies who believe in hands-on learning for innovation. Long Island LEADS is nationally recognized as a founding member of the Nation of Makers.