Come to the Red Planet Cafe and enjoy your first meal on Mars!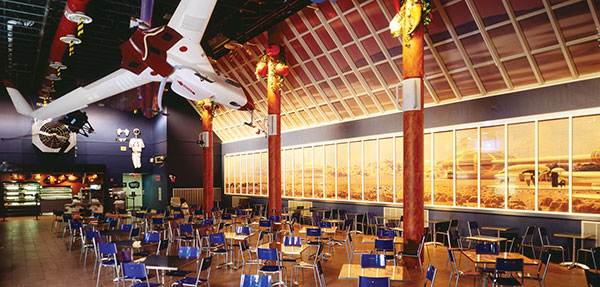 You will be transported to a Space Station on Mars in the year 2040 and look out on the beautiful Martian landscape while lunching. Open from 11:00 am to 3:30 pm, the authentic Martian cuisine includes stellar wraps, salads, sandwiches, fruit, yogurt, vege-burgers, soups, hamburgers, hotdogs, chicken fingers, pizza, grilled cheese and last but not least, the favorite amongst little Martians - curly fries!
Visit
Summer Hours
We are open 9:30-5:00, 7 days per week through September 3.
Admission Rates
Museum
Adult $15
Child/Senior* $13
Museum includes aviation museum galleries and Junior Jet Club
Planetarium & Dome Theater Shows
Adult $9
Child/Senior* $8
Museum and Show Combo
Adult $20
Child/Senior* $18
Combo includes the museum and a single Planetarium or Dome Theater show.
*Children ages 2-12, Senior Citizens 62+, Military Personnel, Volunteer Firemen & Non-Ambulatory Visitors
Other Options
Junior Jet Club $2.50
Nunley's Carousel $2
Cradle of Aviation Museum
Charles Lindbergh Blvd.
Garden City, NY 11530
--
---