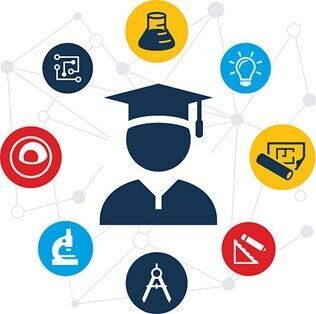 Garden City, N.Y. October 1, 2023 - The Cradle of Aviation Museum is excited to announce the return of the Annual Long Island STEM Career Expo for 10th-11th grade students, set for Monday, October 30th, from 9:00 a.m. to 1:00 p.m. at the museum's Garden City, NY location.
The Expo is designed to empower the next generation of leaders with the skills and knowledge they need for the careers of tomorrow. By fostering partnerships between the academic and business communities, the Cradle of Aviation Museum is committed to developing a skilled workforce capable of meeting the demands of the 21st-century job market.
Event Details
* Date: Monday, October 30th, 9:00 am - 1:00 pm
* Location: Cradle of Aviation Museum, 1 Davis Avenue, Garden City, NY 11530
* Admission: FREE* (Students are encouraged to bring a bagged lunch)
*Schools must register to attend. Teachers, contact Deputy Director Catherine Gonzalez at 516-572-4028 CGonzalez@cradleofaviation.org or Education Director Ines Jijon at IJijon@cradleofaviation.org
* For businesses interested in registering as presenters, contact Catherine.
Catherine Gonzalez, Deputy Director of the Cradle of Aviation Museum, emphasized the event's significance, "The STEM Career Expo is a crucial step towards building a skilled and motivated workforce that will contribute to our community's growth."
The Expo offers a priceless opportunity for 10th and 11th-grade students from across Long Island to interact with exhibitors and presenters, delving into the realms of various STEM fields and their practical applications. These fields span healthcare, aerospace, engineering, renewable energy, manufacturing, homeland security, information technology, and aviation. Exhibitors will feature industry leaders like East/West Industries, the FAA, Jet Blue, Contract Pharmacal Corp, and Northrop Grumman, in conjunction with local institutions such as Molloy University. This distinctive experience nurtures early connections and enhances awareness of the wide range of career prospects available to students.
Keynote Speaker 2023
John Gering, FAIA, Managing Partner at HLW, a global architecture and design firm, will be our distinguished Keynote Speaker. He is renowned for his groundbreaking work in integrating technology and design to reshape the way people interact with their environments. Gering's impressive portfolio includes projects like the restoration of the United Nations Headquarters and innovative designs for media and education facilities. His achievements have garnered numerous accolades, including AIA awards and recognition as a Fellow by the American Institute of Architects.
About the Cradle of Aviation Museum:
The Cradle of Aviation Museum boasts one of the world's largest collections of air and spacecraft, presented across eight galleries that encapsulate over a century of aviation and space history. Additionally, the museum is home to Long Island's exclusive Giant Screen Dome Theater. For further information, please contact 516-572-4111 or visit https://www.cradleofaviation.org/