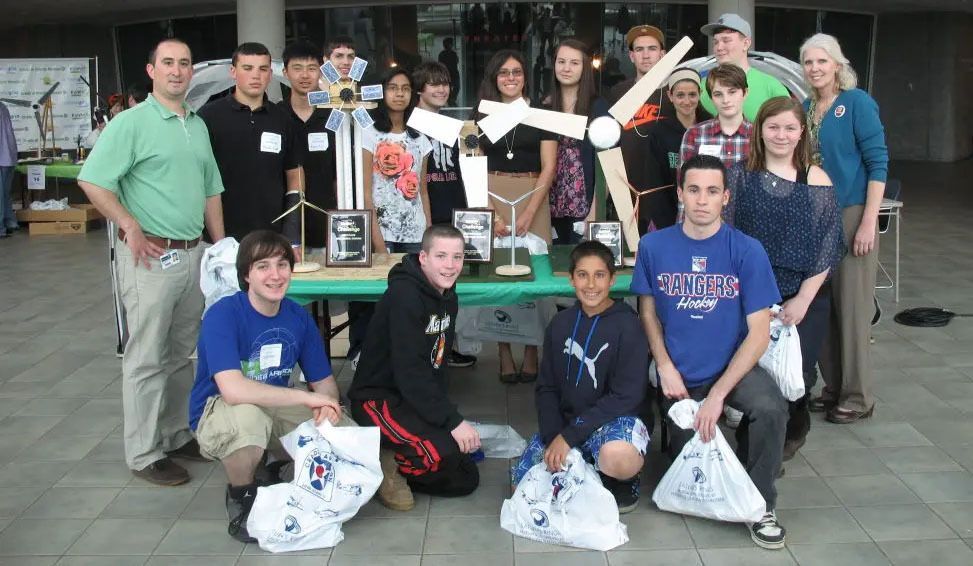 Garden City, N.Y., September 28, 2023 – In partnership with Community Offshore Wind, the Cradle of Aviation Museum is delighted to announce its role as the host for the upcoming KidWind Competition, uniting over 300 Long Island students. This event invites students from grades 5 to High School to explore renewable energy and engineering principles by designing, building, and testing wind turbines and solar structures. The goal is to cultivate a profound understanding of sustainable technology and ignite a passion for STEM (Science, Technology, Engineering, and Mathematics).
Students will craft their wind turbines at school, aiming for efficiency and functionality. They'll then bring their creations to the museum, competing with student teams from across Long Island for awards. The KidWind Competition provides a platform for these young talents to showcase their innovative contributions to the future of global wind energy solutions.
Event Highlights:
Date and Time: October 25, 2023, from 10 am to 1 pm
Location: Cradle of Aviation Museum, Garden City, N.Y.
Participants: Students in Grades 5-12
Fostering Innovation:
This event signifies the commencement of an exciting collaboration between the Cradle of Aviation Museum and the KidWind Educational Series. Their shared mission is to advance STEM education and inspire the next generation of innovators. By pooling their resources and expertise, these organizations aim to create an engaging and educational experience that stirs students' curiosity in science, engineering, and technology.
About the Cradle of Aviation Museum:
The Cradle of Aviation Museum boasts one of the world's largest collections of air and spacecraft, presented across eight galleries that encapsulate over a century of aviation and space history. Additionally, the museum is home to Long Island's exclusive Giant Screen Dome Theater. For further information, please contact 516-572-4111 or visit https://www.cradleofaviation.org/
RWE
RWE is leading the way to a green energy world. With an extensive investment and growth strategy, the company will expand its powerful, green generation capacity to more than 50 gigawatts internationally by 2030. RWE is investing more than $50 billion gross for this purpose in this decade. The portfolio is based on offshore and onshore wind, solar, hydrogen, batteries, biomass and gas. RWE Supply & Trading provides tailored energy solutions for large customers. RWE has locations in the attractive markets of Europe, North America, and the Asia-Pacific region. The company is responsibly phasing out nuclear energy and coal. Learn more: https://www.rwe.com/en/
About National Grid Ventures:
National Grid is an electricity, natural gas, and clean energy delivery company serving more than 20 million people across its networks in New York and Massachusetts. National Grid Ventures (NGV) operates outside the core regulated businesses, focusing on developing, operating, and investing in energy projects, technologies, and partnerships to expedite the transition to a clean energy future. NGV's diverse portfolio spans low-carbon and renewable energy ventures across the UK, Europe, and the US. Visit:https://www.nationalgrid.com/national-grid-ventures
About KidWind Challenge:
The KidWind Challenge empowers students to design, construct, and test wind turbines in a collaborative and supportive environment. Launched by the KidWind Project in 2009, this hands-on learning initiative garners support from leading energy companies, providing students with invaluable experiences. Learn more at https://www.kidwind.org/challenge