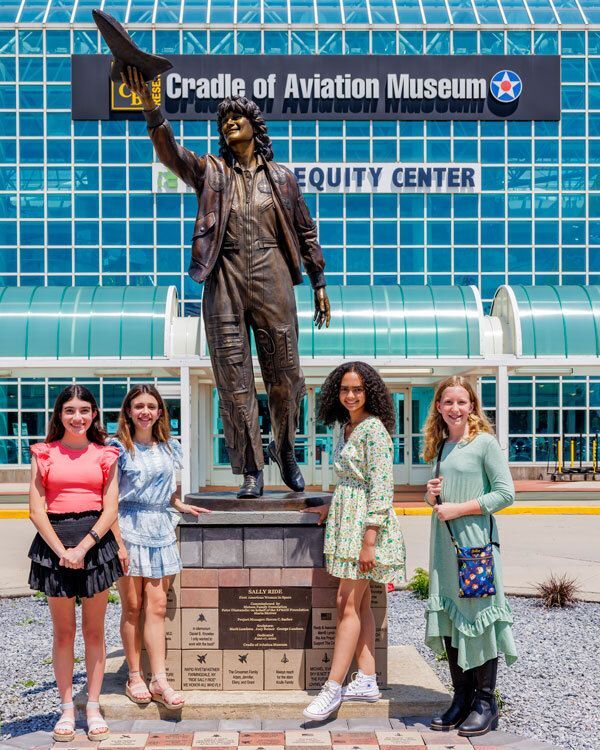 The Cradle of Aviation Museum unveils "The First American Woman in Space" statue honoring Dr. Sally Ride. 
The sculpture, a dramatic accent to the grounds of the museum depicts Dr. Ride in her Space Shuttle In-Flight Suit. The statue, titled "The First American Woman in Space" is a gift to the Museum. The project's title sponsors are the Matson Family Foundation, Peter Diamandis: on behalf of the XPRIZE Foundation, and Maria Shriver.
The seven-foot-tall gold and bronze statue was created by Colorado-based sculptors and brothers George and Mark Lundeen, working with fellow artist, Joey Bainer. The statue will welcome visitors in front of the museum and feature an engraving that honors Dr. Ride.
The sculpture was made possible by Documentary Filmmaker, Steven C. Barber. "It is my great hope that once Sally Ride is unveiled, it will open the floodgates to other monuments for high-achieving American women in STEM," said Mr. Barber.
The Museum held an essay contest for students centered on the life and achievements of Dr. Ride as well as her contribution to space exploration. The winners of the contest had the honor of unveiling the monument dedicated to Dr. Ride.
Ride, who died in 2012, made history on June 18, 1983, when she became the first American woman and the youngest American to soar into space as she traveled aboard the space shuttle Challenger. After her historic spaceflight, Ride saw that her example was a powerful tool for inspiring young people, especially girls, to pursue careers in science. After her second launch on the shuttle, Ride left NASA to become a physics professor and a champion for improving science education. She founded her own company, Sally Ride Science, to pursue her passion for motivating girls and young women to pursue careers in science, technology, engineering, and mathematics.