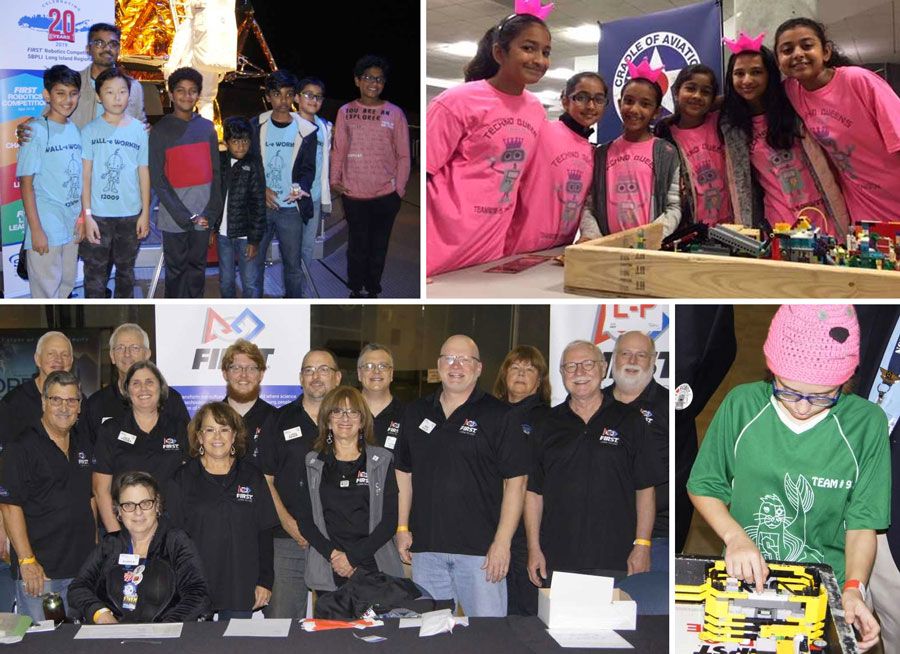 Garden City, N.Y. – Over 500 FIRST Lego participants, their coaches, and families participated in the FIRST Lego launch held at the Cradle of Aviation Museum on Friday, November 2nd. Robotics teams were on hand to showcase their work, promote applications for STEM (Science, Technology, Engineering, and Mathematics), and prepare for this year's upcoming FIRST Challenge.
During their time at the Museum, participants were launched into this year's challenge – "Into Orbit" which asks students to help solve a problem in space exploration for astronauts. Attendees were able to explore the Museum's extensive Space Gallery collection as well as ask Museum docents for details about the Apollo missions and the International Space Station. Attendees also had the opportunity to catch an out of this world documentary "Journey to Space" which highlights the future of space travel….Mars!
The FIRST Lego program presented by School Business Partnership of Long Island used this exciting event to announce the celebration of 20 years on Long Island with the unveiling of their anniversary logo. Their role in providing students the chance to use their STEM knowledge through the creative, engineering process of constructing robots excites students about the future. "The Cradle is thrilled to have hosted the FIRST Lego Launch. FIRST Lego is a perfect match for the Museum. The program encourages students to learn to work together, inspires them to be STEM engineers, and provides a foundation for real-world problem solving which gives students a great foundation for their future." said Catherine Gonzalez, Education Director at the Cradle of Aviation Museum.
FIRST Robotics Long Island has over 100 participating schools. Interested students should contact School Business Partnership of Long Island for details about this year's challenge and events at www.sbpli-lifirst.org. Families interested in exploring Long Island's role in the space program, or to see the feature, "Journey to Space" can visit the Museum any time. Museum information for film times and ticket prices are available online at www.cradleofaviation.org.