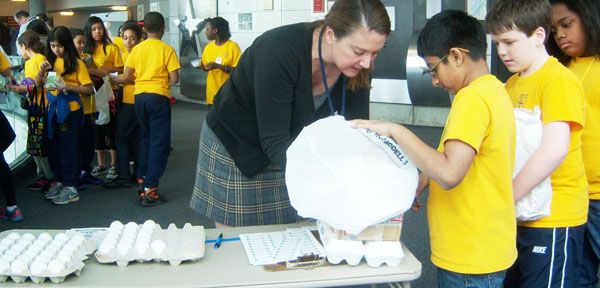 Garden City, N.Y. – On Thursday, March 13th from 9:30am-1:00pm the Cradle of Aviation Museum said goodbye to Old Man Winter and celebrated the return of spring with eggs and a year-round phenomenon—gravity! Newton's Egg is the Cradle of Aviation's annual Egg Drop Contest. Over 500 students from first to eighth grade participated, each with the hopes of protecting their egg from a two story drop off our balcony. Participating schools included: Marion Street in Lynbrook, Newbridge Road in Bellmore, James Wilson Young Middle School, Holy Family, Bowling Green in East Meadow, and Lawrence Middle School.
"This contest was a lot of fun for our participants. Students constructed some awesome egg devices, from peanut packaging to garbage bag parachute, they really put a lot of thought into how their design would land on the target to keep their egg intact," said Catherine Bingham, Education Manager.
The event was split into categories by grade level: grades 1st-2nd, 3rd-5th, and 6th-8th. Prizes were awarded to each school group for the best engineered design and target landing, and of course, the best splat! Prizes were donated from Bobb Howard's Old Fashioned Candy Store in Carle Place.
The Egg Drop Contest is just one of many educational competitions produced by the Cradle of Aviation Museum. The Cradle is home to over 75 planes and spacecraft and is located on Charles Lindbergh Blvd., in the Garden City/Uniondale area. For more information call 516-572-4111 or log onto www.cradleofavaition.org.