The most interesting event calendar around!
---
Long Island Tabletop Gaming Expo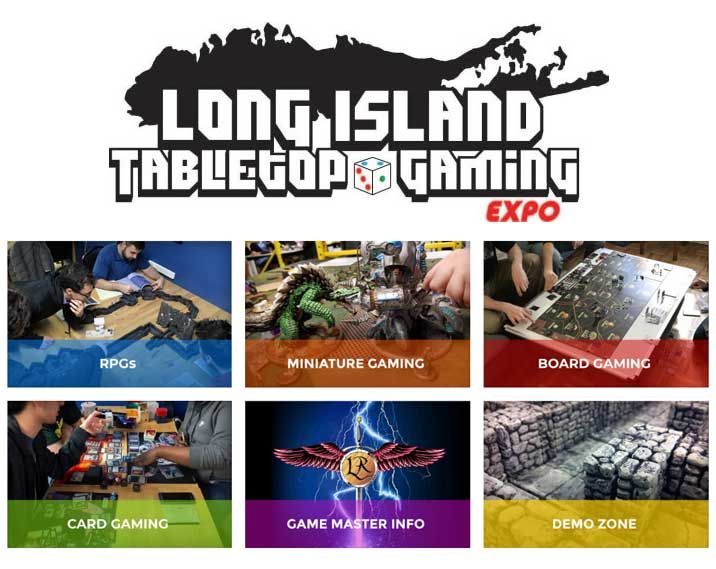 Welcome to Long Island's premier tabletop gaming convention.
The Long Island Tabletop Gaming Expo began as part of the Long Island Retro Gaming Expo. After 2 years of continued expansion, it was time to give it the space and attention that tabletop fans deserve!
The Expo follows a simple idea, "Let's make the kind of show we'd all want to go to!" And that's exactly what we do, by providing a friendly and welcoming environment to everyone, including guests, volunteers, and vendors.
Board Gaming
The board gaming section offers two types of gameplay – Scheduled and Freeplay. Scheduled is recommended for new players. Join a game master and let them help guide you with some fun popular games to get playing quickly. Freeplay – Just grab a game from our huge library, get some friends, and go nuts!
Card Gaming
Magic: The Gathering, Card Gaming Meet-Ups, demos, and more!
Role-Playing Games (RPGs)
Want to become a crime fighter? You can in the story-driven system of Masks, a superhero role-playing game. Perhaps explore the buzz around the newest Second Edition of Pathfinder? Maybe you are interested in something futuristic like Shadowrun or Cyberpunk. And of course, we will have the ever so classic, Dungeons and Dragons.
Miniature Gaming
Whether you are a longtime miniature-gamer or interested in just getting started, the Long Island Tabletop Gaming Expo has something for you! Play or spectate one of our larger tournaments, or visit the Demo Zone for a taste of what these games have to offer. Be sure to also check out our painting classes!
Tickets
Saturday March 18, 10:00 am - 9:00 pm - $30, Children (2-12 $15
Sunday March 19, 10:00 am - 5:00 pm - $25, Children (2-12) $15
Weekend Pass - $45
Family 4 Pack (2 Adults and 2 Children) (Single Day) - $65
VIP Package - $89, Includes Weekend Pass, and LITabletop T-Shirt, Dice Tray, Dice Bag, & Dice
Buy Tickets Now:
All tickets include access on the LITabletop tabletop.events website for game registration.
Please not: Museum Library passes are not valid for this special event.