The most interesting event calendar around!
---
Expanding the Universe with Astronomy on Tap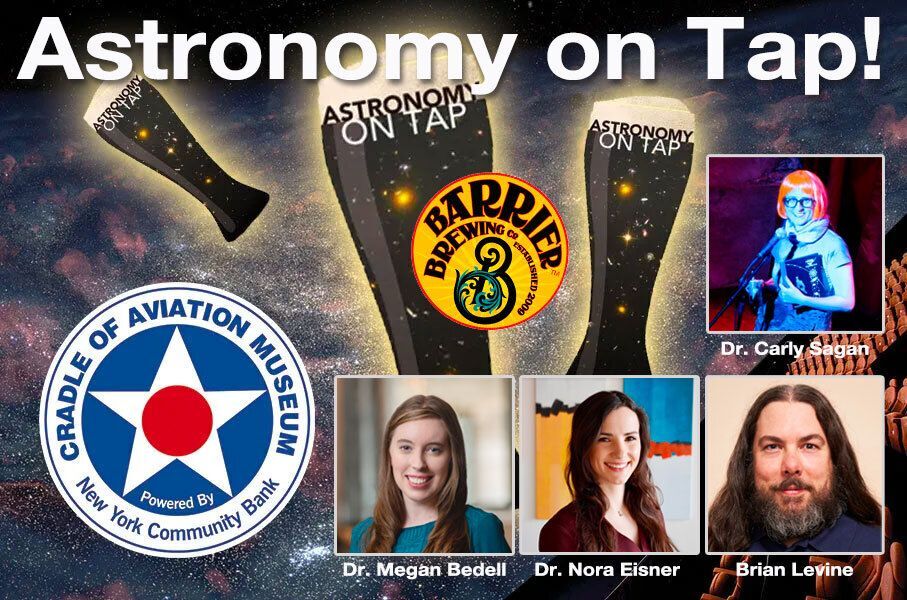 Welcome to the greatest science talk on Long Island.
Join us Friday, January 27th, and learn about the latest in our Universe at 'Astronomy on Tap' as scientists, and educators Dr. Megan Bedell, Dr. Nora Eisner, Brian Levine, and DJ Carly Sagan bring the excitement of astronomy and space to Long Island. Peer through high-powered telescopes provided by knowledgeable members of the Amateur Astronomers Association to see rare celestial sights (weather dependent). And we're excited to be featuring unique craft beers from Barrier Brewing, Oceanside, NY. Dress for the theme – we want to see your astronomy fashion, t-shirts, jackets, accessories, and more!
Itinerary:
• 6:00 pm - Explore the Space Gallery and Telescopes Outside (weather permitting)
• 8:30 pm - Talks and games in the Atrium
• 9:15 pm - Talk in the planetarium
• 10:00 pm - Prize giveaway and screening of Birth of Planet Earth
• 10:45 pm - You don't have to go home but you can't stay here.
Open to the General Public, 21 & over
General Admission: $25 (includes two beers)
Museum Members: $20 (includes two beers)
Designated Driver: $15 (no drink tickets)
Proceeds benefit the museum's Preservation and Education Programs
About Astronomy on Tap
Astronomy on Tap (AoT) is a network of public outreach events featuring engaging science presentations often combined with music, games, and prizes for a fun, interactive atmosphere.
About the Speakers
Dr. Megan Bedell is an Associate Research Scientist at the Flatiron Institute's Center for Computational Astrophysics. She studies stars like our Sun and searches for planets around them using telescopes both on the ground and in space. Dr. Bedell received her B.S. in physics & astronomy from Haverford College and her Ph.D. in astrophysics from the University of Chicago.
Dr. Nora Eisner is a research fellow working at the Flatiron Institute's Center for Computational Astrophysics. She is the project manager of the popular citizen science project Planet Hunters TESS, which engages over 35,000 citizen scientists from around the globe in the exciting task of identifying planets beyond our own Solar System. Her work focuses on studying the unique planets and stellar systems found via this citizen science project, which in turn can help us understand our place in the Universe. Dr. Eisner completed her Masters degree in Physics and Astrophysics at the University of Sheffield and her PhD in Astrophysics at the University of Oxford.
Brian Levine is an astronomy educator, and education administrator, and long-time producer and host of NYC Astronomy on Tap events. He received a Master's degree in "Free-Choice Learning" Science Education, and has worked at the American Museum of Natural History teaching in and managing several teen programs. A lifelong Brooklynite and avid Phish fan, he is also a board member on several nonprofits including the NYC Museum Educators Roundtable, and has worked with many museums, informal education institutions, and leisure-based science programs across the city and country.
DJ Carly Sagan has been organizing and hosting Astronomy on Tap in NYC since 2013, including events at the Intrepid Air, Sea, and Space Museum Complex, New York Public Library, World Science Festival, and more and represents AoT HQ at other "satellite" locations around the world. She is often confused for mild-mannered astronomy professor Emily Rice, though she doesn't see the resemblance. Maybe she needs new glasses.
Amateur Astronomers Association of NY
The Amateur Astronomers Association of New York is a not-for-profit organization started in 1927 to promote the study of astronomy, emphasizing its cultural and inspirational value.
About Barrier Brewing
Established in 2009 in Oceanside NY, Barrier Brewing is Long Island's first craft brewery.
Selections available at the event will include:
Kölsch - Clean, low floral, and winy aroma. Soft and a little sweet. Medium-light body.
King Premium Lager - Deliciously hopped with all Noble hops. Clean, Crisp, and as easy drinking as they come... the people's beer!
Money IPA - Barrier Money Ipa from Barrier Brewing Co. is an India Pale Ale IPA style beer, medium amber in color, and more than moderately hoppy.
Barrier Cryomax Cryo Hops lend an intense hop flavor and aroma. The perfect balance of juicy citrus and pine notes will keep you warm throughout the cold winter months!
Learn more at BarrierBrewing.com