The most interesting event calendar around!
Looking for fun things to do this weekend? You've come to the right place!
December Break - Back to the Cradle!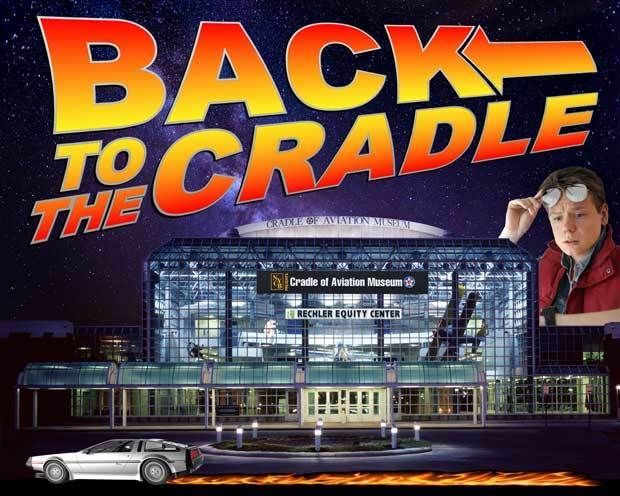 Travel Back in Time at the Cradle of Aviation During December Break December 26-Jan 3rd
This December break (December 26 – Jan 3rd) the Cradle of Aviation Museum is going back….in time…. to celebrate the best of the eighties with the return of its popular Arcade Age Exhibit, a celebration of the 50th Anniversary of Top Gun's F-14, and a celebration of the 35th anniversary of Back to the Future with a Delorean and Movie Memorabilia Exhibit.
THE ARCADE AGE EXHIBIT Back by Popular Demand Not only can you play the arcade classics, but the exhibit tells the story of video arcade games; from the pioneers in the early 40s and 50s to the golden age in the late 70s and early 80s to its crash, revival and ultimate decline in the 90s. The exhibit tells the story of the creative and innovative people who explored groundbreaking technologies, the games that sprung from their ingenuity, and a culture that was shaped by their developments.... complete with over 50 unforgettable playable favorites like Ms. Pac-Man, Galaga, Space Invaders, Centipede, Donkey Kong and more. $10 per person
● Arcade Exhibit has three 90-minute sessions: 11:00 am, 1:00 pm, and 3:00 pm.
● Masks required
● Gloves required (and supplied)
● Limited entry to maintain social distance
● Machines are cleaned in between each session
TOP GUN's F-14 TURNS 50! December 2020 marks the 50th anniversary of the first flight of the F-14 Tomcat, one of the most iconic American fighter planes, also known for its leading role in the Top Gun movie franchise. Visitors can view a robust F-14 collection with a full-size aircraft and two F-14 cockpits, nose and flight suits, and for this special exhibit, never before seen artifacts taken out of storage such as concept models and photographs. During December break, kids can join educators to examine its famous cartoon logo and the hidden messages it contains about the airplane and then have the opportunity to make their own logos. This ten-minute presentation and take-home activity will take place every hour from 12-4. Catch the exhibit and activity just in time before the release of Top Gun 2: Maverick in Summer 2021. Free with Museum Admission
BACK TO THE CRADLE The beloved sci-fi, time-traveling movie, Back to the Future turns 35 in 2020. What better time and way to go back to a period of great pop culture, music, and movies, then to see and take photos with a DeLorean and Back to the Future Memorabilia on display. Free with Museum Admission
"We're thrilled to go back in time and celebrate the 80s by putting a spotlight on two iconic films, Top Gun and Back to the Future. Combine that with the return of our very popular Arcade Age Exhibit and you have the perfect way to say good-bye to the year 2020 and a perfect way to spend the day at the Cradle."- Andrew Parton, President, Cradle of Aviation Museum and Education Center
Museum Admission $16.00 for Adults; $14.00 for Child/Senior BUY TICKETS
Museum & Planetarium Show Combo $21.00 for Adults and $19 for Child/Senior
Arcade Age Exhibit Admission: $10.00 per person BUY TICKETS