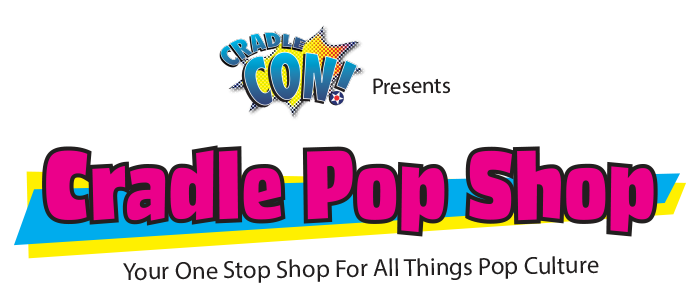 ---
Saturday & Sunday, July 17-18, 2021, 10am-5pm
---
Local Artists

Meet, Greet & Support Local Artists!
Great Vendors

Shop Small Businesses for Comics, Toys, Collectibles, and Unique Art work
Cradle-Con is proud to present its first annual Cradle Pop Shop - your non-profit, one-stop-shop this summer for all things pop culture! 
Meet, greet, and support local artists and vendors! Shop these small businesses for comics, toys, collectibles, and unique artwork. This is a great way to support small businesses at Long Island's only nonprofit pop culture shopping event!
Proceeds support museum education and preservation programs.
Cradle Pop Shop Tickets
Your Pop Shop ticket includes Museum Admission! Explore our galleries that chronicle over 100 years of aerospace history!

Adults $16.00, Kids (2-12) & Seniors (62+) $14.00
> Tickets: Saturday, July 17, 10am-5pm
> Tickets: Sunday, July 18, 10am-5pm
Add-Ons - Please Note: These links will take you to our Arcade and Planetarium pages, be sure to choose your Arcade Session or Planetarium Combo Ticket TIME and DATE for JULY 17th or 18th when purchasing tickets!)
> Add-on an Arcade Session for only $10.00 
(This is a separate ticket from Pop Shop)

> Add-on a Planetarium Show for only $5.00 
(This is a combo ticket that includes show/museum/pop shop admission)
And did we mention that parking is always FREE?!!
---
For Vendor & Artist table opportunities please email Seamus Keane at skeane@cradleofaviation.org
Artist & Vendor List
Artists
Brittany Pleasant - The Artisan's Nook
Catherine Smith
Chloe Hwang Kurapixel - Twitter
Comic Unoheroes
Fat Guy Inc. Studios - Facebook
Fox Print Creations Vicky Sierra - Facebook
Frank Cassuto - Cassuto Illustrations - Facebook
Game of Toons - Facebook
James Avila - javilaart.com | Instagram
James Chambers
Jay Stuart - Poppycock Productions - Facebook
Joe Ciano - amazingjciano.com
Laura Sweeney - laurahelensweeney.com | Etsy | Instagram
Little Shop of Madness - littleshopofmadness.com
Rich Drezen - Luckyzilla - Drezenmedia.com
John Klimiuk - Onjikun - artstation.com/onjikun
Ray Rodriguez
Timothy Dahle - artstation.com/sloppyoctopuss
Vendors:
Compatibles
Diz Majiz - Facebook
Happiness May Result - Facebook
Hastel Toy - Facebook
Kryptonite Comics
Kyle's Comics - Instagram
Lexjors Lair - Facebook
Lost4Toys - Facebook
Milo's Toys - Facebook
Mister E Collectibles
Muteki Sales - Facebook
The Lair Inc. - thelair.nyc | Instagram
Toypocalypse
Vinas Comics