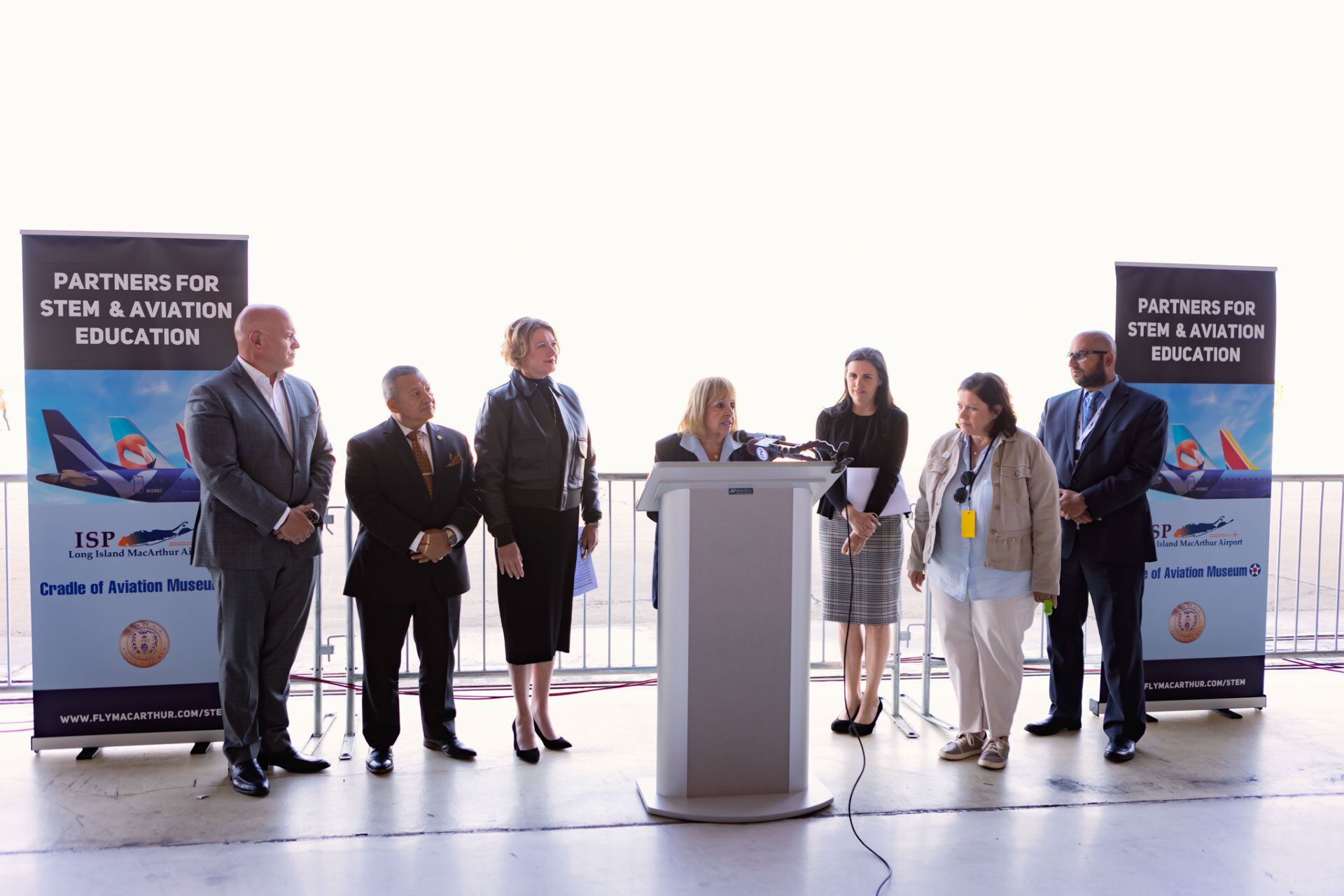 Partnership to Inspire Students to Consider Career Pathways in Aviation and Aerospace
Garden City, N.Y. May 25, 2023 - The Cradle of Aviation Museum, Long Island MacArthur Airport (ISP), and the Town of Islip today announced a unique, new partnership to promote aviation education and careers. This partnership empowers educators and students from the East End of Long Island, with the opportunity to explore and experience various aspects of aviation through educational programs, events, and activities sponsored by the Cradle of Aviation Museum and MacArthur Airport.
The partnership formally kicked off today, as educators and JROTC students in the Air Force from Brentwood High School celebrated with Long Island MacArthur Airport, the Town of Islip, and the Cradle Aviation Museum, joining performers participating in the Bethpage Air Show at Jones Beach this weekend.
"The Cradle of Aviation Museum is thrilled to partner with MacArthur Airport on this unique educational initiative. The partnership will enable the museum to bring exciting education programs to schools in Suffolk County, and combine it with tours of the airport to provide students with exposure to careers in aviation," said Andy Parton, President of the Cradle of Aviation Museum.
"The Town of Islip and MacArthur Airport recognize the need to reach out to young adults with potential career opportunities, to keep future generations on Long Island," said Town of Islip Supervisor Angie Carpenter. "Aviation incorporates science, technology, engineering, and mathematics — all academic disciplines that offer a full range of career opportunities. Today is the perfect day to launch this exciting partnership," she added.
"Airline crew shortages including pilots, maintenance mechanics, and flight attendants are frequently in the news. We hope to change that narrative by partnering in this endeavor with the Cradle of Aviation," said Commissioner of Aviation and Transportation for Long Island MacArthur Airport, Shelley LaRose-Arken. "There are also vast career opportunities at airports in law enforcement and security functions, airport operations and management, aircraft charter, air traffic control, and, of course, our military. The airport is the perfect setting for students to learn more about these fields. We are thrilled to collaborate with the Cradle of Aviation on this mission," she added.
Each year about 400,000 spectators attend the Bethpage Air Show to help celebrate our nation's military and the Memorial Day holiday weekend," said Linda Armyn, Chief Strategy & Marketing Officer, at Bethpage Federal Credit Union. "This year, we are delighted to add Brentwood High School students to our audience! Thank you to MacArthur Airport and the Town of Islip, for allowing us to showcase some of the aircraft performing in this year's show."
THE CRADLE OF AVIATION MUSEUM is home to one of the largest collections of air and spacecraft in the world arranged in eight galleries that take you through over 100 years of air and space history. The museum is also home to Long Island's only Giant Screen Dome Theater. The Cradle is located at Charles Lindbergh Blvd. on Museum Row in Garden City. For more information, please call 516-572-4111 or visit our website at www.cradleofaviation.org.

ABOUT LONG ISLAND MACARTHUR AIRPORT: MacArthur Airport is on Long Island, approximately 50 miles from New York City. It is the closest airport to 2.8 million Long Island residents, and to world-renowned attractions including the famous Hamptons, Wine Country, Lighthouses, Fire Island, excellent theatre, award-winning restaurants, and Gatsby-era mansions. The Town of Islip owns and operates the airport, served by Breeze Airways, Frontier Airlines, and Southwest Airlines. Access to the Long Island Rail Road (LIRR) makes getting around Nassau and Suffolk counties convenient. Train service from the Ronkonkoma / MacArthur Airport LIRR to New York City provides frequent transport. Long Island MacArthur Airport employs 6000 people directly and indirectly, with a $16M annual operating budget and an economic impact of $600M on the region and local economy.
Additional Airport & Town of Islip resources:
FlyMacArthur.com
MacArthurAirport.com
MacArthur Airport Facebook
Twitter @LlMacArthur
Instagram @FlyMacArthur