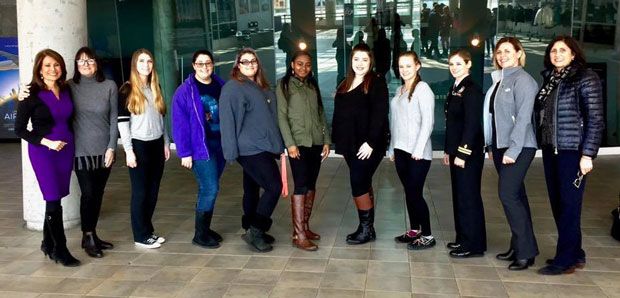 Garden City, N.Y. – On Monday, March 13th, the Cradle of Aviation hosted its 6th annual "Salute to Women in STEM" event. This year the museum honored an extraordinary panel of women including Bonnie Tiburzi Caputo, the first female commercial pilot; Chelsea Engberg, CEO of Aviatrix and aerobatic pilot; and LT Natalie Schibell, MSC, USN. Mediating the event was News 12 Long Island, Anchor Carol Silva.
"This event really captures the importance of 'girl power' and how these young ladies can apply their skills from all academic subjects to pursue their future goals. Students were captivated by the three panelists as they listed to stories of perseverance and passion," said Catherine Bingham, Director of Education, "By meeting women such as these panelists, young ladies getter a better glimpse of how they can use their interests and skill sets in a changing workforce. The students left feeling encouraged, excited, and prepared to continue on their career paths."
The event is designed to encourage young girls to consider careers in STEM (Science, Technology, Engineering, and Mathematics) which traditionally have been male dominated. The event also celebrates active role models in STEM. Each panel member discussed their specific career field, how they pursued their careers and the importance of women in America's growing shortage of STEM professionals.
The Cradle of Aviation Museum is home to over 75 air and space craft representing over 100 years of aviation history. The museum is located on Museum Row, Charles Lindbergh Blvd. in East Garden City, NY.