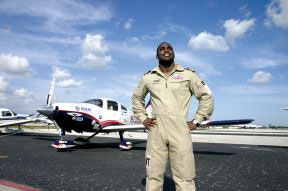 Garden City, N.Y. – On Wednesday, August 1, 2012, the Cradle of Aviation Museum will be hosting a Q&A with Captain Barrington Irving at 10am for the incoming freshman to the S.T.E.M. Magnet Academy. Captain Barrington is the youngest person and first black pilot to fly solo around the world in history. He will be discussing his journey around the world, his passion for flying and his goal of encouraging young people to explore career opportunities in the field of aviation.
The Dream & Soar presentation will include speakers from the Federal Aviation Administration (FAA) and Mitsubishi Heavy Industries America, Inc. who will provide information about the importance of Science, Technology, Engineering and Mathematics (STEM), the future of aviation and careers in General Aviation. All presenters will answer questions from the audience.
Barrington Irving was born in Kingston, Jamaica and raised in inner-city Miami; he found his passion for flying by a chance encounter with a United Airline pilot who was also originally from Jamaica. He would spend his time at the airport doing odd jobs in exchange for half hour flights or money he could use for flying lessons. Every evening he would practice flying on his own using $40 Microsoft Flight Simulator software. Focused on his dream of flying he turned down college football scholarships to focus on building a career in aviation.
In 2003, he began to develop plans for his historic flight. When he was turned down by aircraft companies in his quest to borrow or lease a plane for the flight, he decided to ask manufacturers of the various components to donate just one individual product to him. Columbia Aircraft agreed to assemble the plane if he could produce the parts. Over the next year he secured more than $300,000 in donated components. Columbia then built him the world's fastest single-engine piston airplane. Barrington's story is one of passion and persistence and will serve as an inspiration for young people all over the world to follow their dreams and never give up.
The Cradle of Aviation Museum is home to over 75 air and spacecraft representing over 100 years of aviation history and Long Island's only Giant Screen Dome Theater. The museum is located on Museum Row, Charles Lindbergh Boulevard in Garden City/Uniondale area. Directions to the museum are to take the Meadowbrook Parkway to exit M4 West, and then follow signs to Museum Row. For information call 516-572-4111 or log on to www.cradleofaviation.org.
This event is sponsored by Mitsubishi Heavy Industries America, Inc. Dream & Soar Program