Military Care Packages
Cradle of Aviation Museum & U.S. Air Force Partner to Deliver Care Packages to the Military this Holiday Season
The Cradle of Aviation Museum and the U.S. Air Force's local Freeport office are partnering together this holiday season by recognizing and showing gratitude and support for the sacrifice of active service members with military care packages.
Between Veterans Day (November 11th) and December 13th, the museum will be collecting donations and hand-written cards from local families and museum visitors of much-needed items for local troops that will be packaged and shipped out in time for the holidays. Items to be collected include:
Baby Wipes
Candy
Coffee
Beef Jerky
Sunflower Seeds
Gum
Cookies
Foot Powder
Baby Powder
Protein Bars
Uno Cards
Playing Cards
Board Games
Sent to active military personnel, these care packages, bring small comforts to service members abroad, while a personal note or a child's artwork gives a care package a personal, thoughtful touch.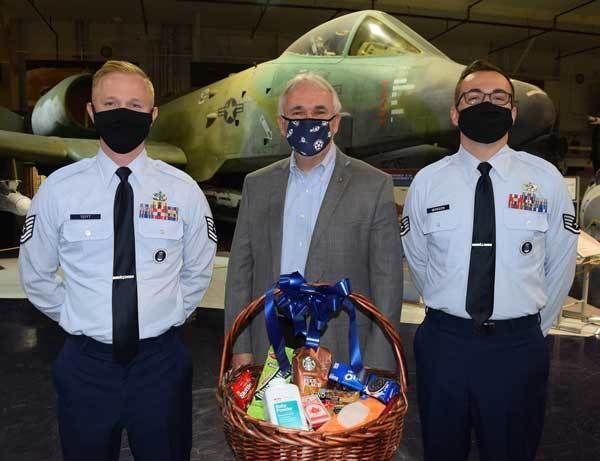 Photo left to right: TSgt Wesley Tefft, Cradle President Andrew Parton, SSgt Tyler Monson. TSgt Tefft and SSgt Monson are from the Air Force Recruiting Office in Freeport NY.
"The Cradle is thrilled to be collaborating with the US Air Force in Freeport to celebrate Veterans Day beyond just one day! It's important that while we all share memories with our loved ones – near, far, and maybe on Zoom this year – we also reflect, honor, and serve (as best we can) those who protect our families every day overseas. We're happy to share this opportunity with our community by collecting items our armed forces need during this holiday season." - Catherine Gonzalez, Director of Education, Cradle of Aviation Museum & Education Center
The Cradle of Aviation Museum & Education Center is home to over 75 air and spacecraft representing over 100 years of aviation history located on Museum Row, Charles Lindbergh Blvd., in Garden City, Long Island, NY.
The museum is a safe, spacious, and clean environment for visitors, open Thursday through Sunday from 10:00 am to 4:00 pm
Tickets are valid for one year from the date of purchase.