The most interesting event calendar around!
---
Sally Ride Sculpture Unveiling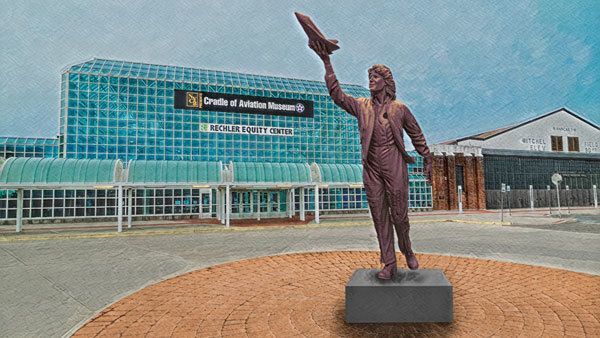 The Cradle of Aviation Museum cordially invites you to a commemorative sculpture unveiling and dedication ceremony honoring the late astronaut Dr. Sally Ride. The museum is also launching a fundraising brick program in conjunction with the installation.
The unveiling and celebration take place on Friday, June 17, 2022, at 11:00 am in front of the Cradle of Aviation Museum.
The sculpture, a dramatic accent to the grounds of the museum depicts Dr. Ride in her Space Shuttle In-Flight Suit. The statue, titled "The First American Woman in Space " is a gift to the Cradle of Aviation Museum. The project's title sponsor is Matson Money, based in Mason, Ohio.
The seven-foot-tall gold and bronze statue was created by Colorado-based sculptors and brothers George and Mark Lundeen, working with fellow artist, Joey Bainer. The monument will welcome visitors in front of the museum and feature an engraving that honors Dr. Ride.
The sculpture was made possible by Documentary Filmmaker, Steven C. Barber. "It is my great hope that once Sally Ride is unveiled, it will open the floodgates to other monuments for high-achieving American women in STEM," said Mr. Barber.
Details about the brick program can be found here.