The most interesting event calendar around!
Looking for fun things to do this weekend? You've come to the right place!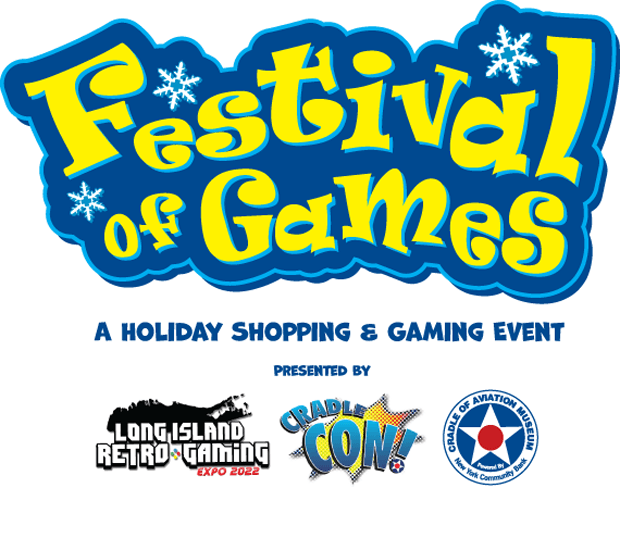 Festival of Games: A Holiday Shopping & Gaming Event
Cradle-Con and Long Island Retro Gaming Expo are proud to present the 1st annual Festival of Games – a holiday-themed extravaganza of shopping and gaming experiences in support of the Cradle of Aviation Museum's Preservation and Education Programs.
Join us on Saturday, December 11, 2021, from 10:00 am to 9:00 pm and shop a variety of local small businesses for retro video games, toys, comics, and collectibles and enjoy a slew of unique retro gaming experiences. Admission includes free unlimited gameplay in the Arcade Age Exhibit featuring over 70 arcade classics plus dozens of retro gaming console setups with competitive tournaments and holiday-themed games.
• Tickets*: Adults $20.00, Kids (2-12) $15.00
• Proceeds support museum Preservation and Education Programs
• Family-friendly - something for everyone
• Supporting local businesses in the community
• And did we mention FREE Parking?!!
*Note: Library Museum Passes are not eligible for Admittance
About Cradle Con
Cradle Con: A Comic, Collectibles and Pop Culture Con. Cradle-Con is the Cradle of Aviation Museum's non-profit, comic, collectible, and pop culture convention, built by fans, for fans. More details here...
About Long Island Retro Gaming Expo
Long Island Retro Gaming Expo (LI Retro): The largest gaming exhibitor in New York hosts the North East's premier retro-centric convention where gamers can experience the joy and history of video games in an environment that encapsulates the golden eras of gaming re-imagined for today's player. Held annually every August at The Cradle of Aviation, LI Retro hosts hundreds of unique gaming experiences, exclusive exhibits, engaging panels, live performances, and more. More details here...